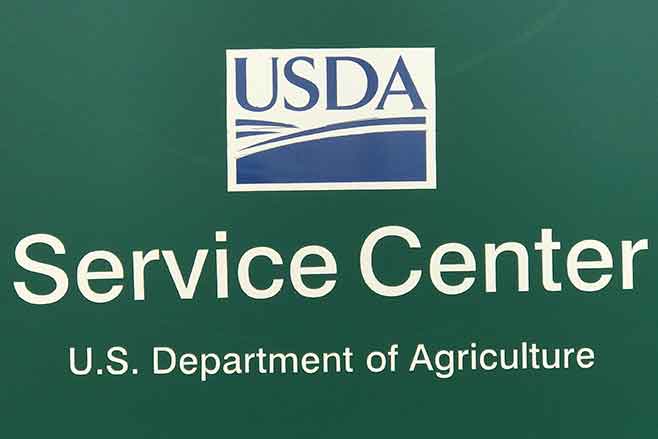 Published
Tuesday, August 18, 2020
IMPORTANT DATES TO REMEMBER:
CFAP - Signup May 26 - August 28, 2020 - EXTENDED TO SEPTEMBER 11, 2020
LFP - Signup ends January 30, 2021
2020 PLC YIELD UPDATE - Deadline September 30, 2020
WHIP+ signup - Begins March 23, 2020
Disclaimer: Information in this UPDATE is pertinent to Kiowa County FSA only. Producers reading this and that do not have FSA interest in Kiowa County are advised to contact their local FSA Office.
DROUGHT MONITOR
Sad to say there weren't any positive changes to the Drought Monitor this week. For another week, there is not any area of Colorado that is not rated on the Drought Monitor.
The map shows this month's Drought Outlook, the dark color depicts - drought persists which is the color for the majority of the western U.S. states.
CORONAVIRUS FARM ASSISTANCE PROGRAM UPDATES
ADDITIONAL CFAP PAYMENTS ISSUED
If you will recall producers who applied and received the initial CFAP, that payment was based on 80% of the total payment rate. It was determined last week that FSA will issue the remaining 20% of the payment this week. Producers in Kiowa County should expect those payments to in bank accounts by Wednesday of this week.
APPLICATION DEADLINE EXTENDED
Agricultural Secretary Perdue announced last week that the application deadline for the CFAP program will be extended to September 11, 2020. The original deadline to submit an application was August 28, 2020. Producers who have not contacted their local USDA Service Center are urged to call and schedule an appointment before the September 11th date.
ADDITIONAL ELIGIBLE COMMODITIES ADDED
USDA also added additional commodities that will now be considered eligible for CFAP payments.
The following additional commodities are now eligible for CFAP:
Specialty Crops - aloe leaves, bananas, batatas, bok choy, carambola (star fruit), cherimoya, chervil (french parsley), citron, curry leaves, daikon, dates, dill, donqua (winter melon), dragon fruit (red pitaya), endive, escarole, filberts, frisee, horseradish, kohlrabi, kumquats, leeks, mamey sapote, maple sap (for maple syrup), mesculin mix, microgreens, nectarines, parsley, persimmons, plantains, pomegranates, pummelos, pumpkins, rutabagas, shallots, tangelos, turnips/celeriac, turmeric, upland/winter cress, water cress, yautia/malanga, and yuca/cassava.
Non-Specialty Crops and Livestock - liquid eggs, frozen eggs and all sheep. Only lambs and yearlings (sheep less than two years old) were previously eligible.
Aquaculture - catfish, crawfish, largemouth bass and carp sold live as foodfish, hybrid striped bass, red drum, salmon, sturgeon, tilapia, trout, ornamental/tropical fish, and recreational sportfish.
Nursery Crops and Flowers - nursery crops and cut flowers.
Other changes to CFAP include:
Seven commodities - onions (green), pistachios, peppermint, spearmint, walnuts and watermelons - are now eligible for Coronavirus Aid, Relief, and Economic Stability (CARES) Act funding for sales losses. Originally, these commodities were only eligible for payments on marketing adjustments.
Correcting payment rates for onions (green), pistachios, peppermint, spearmint, walnuts, and watermelons.
CHANGES TO CRP EMERGENCY GRAZING
As of July 29, any new requests to graze CRP under Emergency conditions will be required to abide by the following guidelines.
Producers are allowed 90 days of approved grazing however;
Grazing must cease on September 24, 2020 for producers grazing CRP acres in Kiowa County.
Grazing may continue 30 days later on October 24, 2020 if:
FSA is notified that grazing will continue
Existing cover supports additional grazing
Grazed only for the remainder of the prescribed 90 days. The 90 days begin based on the date the grazing plan and Conservation Plan is approved by FSA.
We realize that this is a big change, however the majority of the requests to graze were approved prior to this change.
CRP HAYING
Haying CRP acreage is available now through September 24th, due to the fact Kiowa County is approved for Livestock Forage Program (LFP), producers wishing to hay CRP acreage will be limited to haying 50% of the contract acreage. The swathing and baling must to be completed prior to September 24, 2020 and the bales must be removed within 15 days after baling. Producers cannot hay and graze the same acreage.
CRP participants requesting CRP emergency haying and grazing must do the following:
Submit a signed request on a CRP-117.
Sign the terms and conditions provided by the FSA Office.
Obtain a modified conservation plan.
NRCS will be doing a field inspection prior to approval for haying. A 6-inch grass height must be present in order to be approved to hay the acreage.