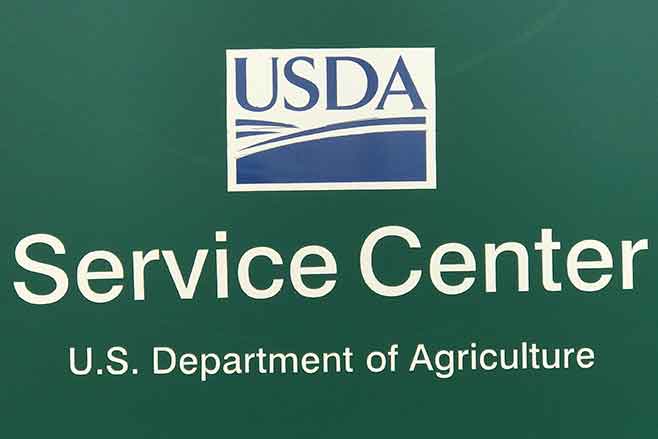 Published
Monday, December 30, 2019
IMPORTANT DATES TO REMEMBER:
USDA SERVICE CENTER CLOSED - Wednesday, January 1st - Happy New Year!
CRP PRODUCER MEETING- JANUARY 7th, 2020 IN EADS AND LAMAR
Farm Loan personnel in Eads Office - 2nd Tuesday every month
2019 & 2020 - ARCPLC signup - Begins October 1st - Deadline March 15th
Disclaimer: Information in this UPDATE is pertinent to Kiowa County FSA only. Producers reading this and that do not have FSA interest in Kiowa County are advised to contact their local FSA Office.
NEW YEAR AND NEW DECADE
Hard to believe that another decade in the 21st century is ending; seems as though 10 years just fly by. As you look back on the past 10 years, it's our hope that you have more smiles than tears. Your local USDA Service Staff wishes all of our customers a happy and healthy 2020. May God continue to bless you and yours.
CRP MEETINGS
Postcards were mailed out last week to producers informing them of the numerous locations for CRP meetings. Producers should also have a expiring contract(s) letter that was sent out the beginning of December. There are various Fact Sheets available online @ https://www.fsa.usda.gov/news-room/fact-sheets/index. There will also be Fact Sheets available at the meetings. Tenants with nonresident owners, it would be beneficial to contact those owners and make them aware of the meetings.
Again, it is important that producers with expiring CRP contracts and those who are wanting to offer new land into the CRP program - plan to attend one of the meetings listed below.
NOTE: Correction to the following:
Brighton meeting time is 9:00 a.m. not 10:00 a.m.
Hugo meeting is located in the Jury Assembly Room at the Courthouse.
COLORADO FARM SERVICE AGENCY
CONSERVATION RESERVE PROGRAM (CRP)
PRODUCER MEETINGS
MONDAY - JANUARY 6TH
9:00 A.M. - BRIGHTON @ Adams Co. Fairgrounds - Administration Bldg. 9755 Henderson Rd.
3:00 P.M. - HUGO - Lincoln County Courthouse - Jury Assembly Room
TUESDAY - JANUARY 7th
10:00 A.M. - EADS @ Community Building located at Kiowa County Fairgrounds - NW end of Eads.
2:00 P.M. - LAMAR @ Bowman Building @ LCC
WEDNESDAY - JANUARY 8th
10:00 A.M. - BOONE @ Ark Valley Organic Growers (AVOG) (Old Excelsior School) 1516 Asbury Ln.
ARCPLC Enrollment
ARCPLC enrollment deadline is March 15th. Producers will elect either ARC-County, Price Loss Coverage or ARC- Individual Coverage. The election will be for crop years 2019 and 2020. Beginning in 2021, eligible producers can make an election each year through year 2023. . Producers who fail to make an election will default to the program that the farm had through 2018 and will be ineligible for 2019 payments.
2019 PRICE LOSS COVERAGE
Projected 2019 PLC rates were updated on December 10, 2019 - as shown below.
Wheat -.95 bushel
Barley - .30 bushel
Corn - zero
Grain Sorghum - .55 bushel
Sunflower seed- .0250 pound
Kiowa County FSA Committee
Destiny Haase - LAA 2 - Central area - Committee Chairperson
Sean Harkness - LAA 1 - East area - Committee Vice-Chairperson
Michael Zimmerman - LAA3 - West area - Committee Regular Member
USDA SERVICE CENTER CONTACT INFORMATION
409 E Lowell Ave.
PO Box 188 - Eads, CO 81036
Telephone 719-438-5851 FSA (Ext 2), NRCS (Ext 3). FSA Fax number: fax2mail 844-332-7501
FSA - Farm Service Agency
* Dawna Weirich - CED dawna.weirich@usda.gov
* Charla Ferris - PT charla.ferris@usda.gov
* Hallie Barlow - PT hallie.barlow@usda.gov
NRCS - Natural Resource Conservation Service
* Steve Schmidt - Eads Office
* Scott Smith - Cheyenne Wells - 719-767-5648 ext. 3 scott.smith3@usda.gov
KIOWA COUNTY FARM LOAN CONTACT INFO - CALL FOR AN APPOINTMENT
Telephone 719-336-3437 (ext2)
Mary Rhoades, mary.rhoades@usda.gov,
Nicole Lubbers, nicole.lubbers@usda.gov
SERVICE CENTER OFFICE HOURS:
Monday through Friday - 8:00 a.m. to 4:30 p.m. Friday, by appointment only.
RECEIVE FSA INFORMATION
Visit website www.Farmers.gov for up to date information on the 2018 Farm Bill.
Receive text messages - Text COKiowa to FSANow (372-669) to subscribe.
Subscribe to GovDelivery emails: Visit www.fsa.usda.gov/subscribe or contact your local FSA Office.
For information on programs visit our website located at www.fsa.usda.gov or like us on Facebook or follow us on Twitter.
USDA is an equal opportunity employer.