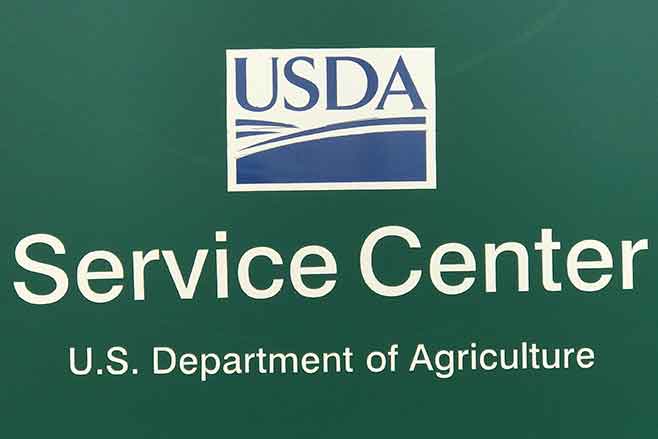 Published
Tuesday, December 8, 2020
IMPORTANT DATES TO REMEMBER:
CRP EMERGENCY GRAZING and HAYING - 30-DAY NO GRAZING HAS BEEN WAIVED FOR 2020. FSA OFFICES CAN ACCEPT NEW REQUESTS FOR HAYING AND GRAZING UNTIL DECEMBER 31, 2020
CFAP2 SIGNUP - DEADLINE DECEMBER 11, 2020 - Call and schedule your appointment.
2021 ARCPLC signup - begins October 13 - ends March 15, 2021
LFP - Signup ends January 30, 2021
NRCS EQIP & CSP Deadline - January 8, 2021
Disclaimer: Information in this UPDATE is pertinent to Kiowa County FSA only. Producers reading this and that do not have FSA interest in Kiowa County are advised to contact their local FSA Office.
COVID- 19
Since Kiowa County was moved to red last Friday, this also affects the USDA Service Center. The Service Center is open for phone calls and all employees are working, either in the office or remotely.
Here at the USDA Service Center we ask that if you MUST visit the office you abide by these rules:
#1 - Wear a face covering or ask that we assist you outside in the parking lot and practice social distancing.
#2 - If you have documents that need dropped off - USE THE DROP BOX and do not ring the doorbell. We assure you the drop box is secure and is checked daily.
Please remember; FSA offices have the ability to allow producers to sign many documents with an electronic signature.
Therefore, if you are only needing to sign documents; please ask FSA send those to you to sign electronically. We assure you it's an easy process. The office can also mail you any information that you are needing, and you can also return documents by mail.
2018 WHIP+
The staff will begin emailing or mailing out 2018 WHIP+ applications to producers who are projected to receive a payment. Charla will be reaching out to operators to determine the best way to obtain the signatures. The deadline to obtain the signatures is Friday, December 18, 2020.
Letters were emailed to producers the end of November notifying them that their application computed to zero payment. Producers have 10 days to contact the office to dispute that fact.
To be eligible for WHIP+, producers must have suffered losses of certain crops, trees, bushes or vines in counties with a Presidential Emergency Disaster Declaration or a Secretarial Disaster Designation (primary counties only) for qualifying natural disaster events that occurred in calendar years 2018 or 2019. Also, losses located in a county not designated by the Secretary as a primary county may be eligible if a producer provides documentation showing that the loss was due to a qualifying natural disaster event.
For losses due to drought, a producer is eligible if any area of the county in which the loss occurred was rated D3, or extreme drought, or higher on the U.S. Drought Monitor during calendar years 2018 or 2019. Producers who suffered losses should contact their FSA county office.
In addition to the recently added eligible losses of drought and excess moisture, FSA will implement a WHIP+ provision for crop quality loss that resulted in price deductions or penalties when marketing crops were damaged by eligible disaster events. To ensure an effective program for all impacted farmers, the Agency is currently gathering information on the extent of quality loss from producers and stakeholder organizations.
NRCS PROGRAMS DEADLINE
EQIP and CSP Deadline - Colorado farmers interested in applying for the Environmental Quality Incentives Program (EQIP) and Conservation Stewardship Program (CSP) should apply by Friday, January 8, 2021. While USDA's Natural Resources Conservation Service (NRCS) accepts applications throughout the year, you must apply by the date to be considered for 2021 funding.
EQIP is a voluntary conservation program that helps make conservation work for you. Together, NRCS will help you invest in solutions that conserve natural resources for the future while also improving your agricultural operation.
Through EQIP, NRCS provides you with financial resources and one-on-one help to plan and implement improvements, or what we call conservation practices.
https://www.nrcs.usda.gov/wps/portal/nrcs/detailfull/national/technical/cp/ncps/?cid=nrcs143_026849
NRCS sets aside 10 percent of EQIP funding for historically underserved customers, which include beginning farmers, socially disadvantaged farmers, limited resource producers, Tribal farmers and veterans. These customers receive a higher EQIP payment rate on their conservation practices.
CSP offers additional opportunities to expand on existing conservation efforts by offering conservation practices, enhancements, bundles, and other conservation activities.
If you decide to enroll in CSP, your local NRCS conservation planner will have a one-on-one consultation with you to evaluate your current management system and the natural resources on your land. Then, the NRCS conservation planner will present a variety of CSP conservation activities for you to consider implementing on your land in order for you to address additional natural resource concerns.
Once you choose the conservation activities that best fit your operation, CSP offers annual payments for installing these activities on your land and operating and maintaining your current conservation efforts.
To apply, contact your NRCS field office for an appointment. https://www.farmers.gov/service-center-locator.