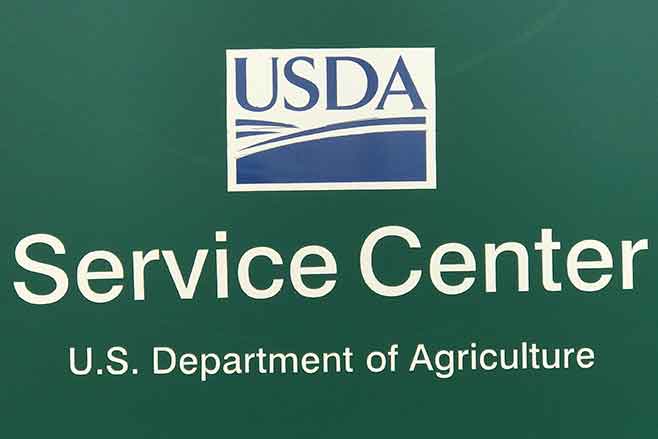 Published
Monday, February 17, 2020
IMPORTANT DATES TO REMEMBER:
CRP General Signup #54 - Deadline February 28, 2020
2019 - ARCPLC signup - Begins October 1 - Deadline March 16
NAP DEADLINE - Application for coverage for spring seeded crops - Monday, March 16
Farm Loan personnel in Eads Office - 2nd Tuesday every month
Disclaimer: Information in this UPDATE is pertinent to Kiowa County FSA only. Producers reading this and that do not have FSA interest in Kiowa County are advised to contact their local FSA Office.
THIRD 2019 MFP PAYMENT ISSUED
The third and final 2019 Marketing Facilitation Program (MFP) payment was authorized and released and should be in producer's bank account. The payment rate for Kiowa County was $26.00 per planted acre, producers were paid based on their share of the total planted acres.
Payments were broken into three payment tranches.
The first payment was equal to $15.00 per acre,
the second payment was equal to 75% of the counties payment rate, which was $4.50 an acre.
The third and final payment was equal to $6.50 an acre which brought the total to $26.00 per acre.
According to reports, there is not a 2020 MFP program planned at this time.
CRP GENERAL SIGNUP
CRP General Signup #54 is ending February 28. Kiowa County producers are being responsive to emails and notifications. Producers who have received information regarding their field assessments need to call the office and schedule an appointment to complete the paperwork to submit an offer.
Just to reiterate a few things regarding producers' options with expiring 2020 CRP contracts.
Producers with expiring contract(s) will receive the last payment on the expiring contract(s) in October 2020. If the new offer is accepted and producers continue on with the process of completing a Conservation Plan with NRCS and the CRP-1 contract is approved - the contract start date will be October 1, 2020.
Producers with expiring State Acres for Wildlife Enhancement (SAFE) have the option for an additional 20 EBI points under the N1b factor. To accept the 20 additional N1b points, producers agree to a wildlife conservation plan, which will be more restrictive than a general conservation plan. Producers also have the option to offer the land for longer than a 10-year contract, producers can choose up to a 15-year contract or any year between a 10- and 15-year contract.
All or a portion of the acreage may be eligible for enrollment in a CRP grasslands contract. CRP grasslands is working CRP grassland program. Producers who meet eligibility can enroll land for a 10- to 15-year contract that would be effective on October 1, 2020. The sign-up period for CRP grasslands is tentatively scheduled for March 16 through May 15, 2020. Contracts that are accepted will be effective October 1, 2020. The 2020 Grassland rates per acre for the area are:
Kiowa and Lincoln - $6.00
Cheyenne - $7.00
Prowers - $5.00
Bent and Crowley - $4.00
Transition Incentives Program or better known as TIP is also available. TIP can provide two additional annual rental payment after the contract expires on the condition that the CRP producer agree to sell or lease (minimum 5 years) to a beginning or veteran farmer or rancher or a member of a socially disadvantaged group (gender not eligible). The CRP producer and the new producer cannot be family members. It is not required that the land be returned to actively farming, the new landowners or renters are required to obtain a grazing or farming conservation plan with NRCS. The signup for TIP ends for these expiring contracts on August 21, 2020.
Last choice is to do nothing, allow the contract to expire. Producers who are going to actively begin farming the land, we ask that you please notify the county office of your intentions. You will also be required to obtain a conservation plan with NRCS. The earliest producers can begin activities on the land is after the primary nesting season which is July 16, 2020 with a prorated payment reduction for the 2020 annual rental payment.
New Farmers.gov Feature Helps Producers Find Farm Loans that Fit Their Operation
A new online tool can help farmers and ranchers find information on U.S. Department of Agriculture (USDA) farm loans that may best fit their operations. USDA has launched the new Farm Loan Discovery Tool as the newest feature on farmers.gov, the Department's self-service website for farmers.
USDA's Farm Service Agency (FSA) offers a variety of loan options to help farmers finance their operations. From buying land to financing the purchase of equipment, FSA loans can help. Compared to this time last year, FSA has seen an 18 percent increase in the amount it has obligated for direct farm ownership loans, and through the 2018 Farm Bill, has increased the limits for several loan products.
USDA conducted field research in eight states, gathering input from farmers and FSA farm loan staff to better understand their needs and challenges.
How the Tool Works
Farmers who are looking for financing options to operate a farm or buy land can answer a few simple questions about what they are looking to fund and how much money they need to borrow. After submitting their answers, farmers will be provided information on farm loans that best fit their specific needs. The loan application and additional resources also will be provided.
Farmers can download application quick guides that outline what to expect from preparing an application to receiving a loan decision. There are four guides that cover loans to individuals, entities, and youth, as well as information on microloans. The guides include general eligibility requirements and a list of required forms and documentation for each type of loan. These guides can help farmers prepare before their first USDA service center visit with a loan officer.
Farmers can access the Farm Loan Discovery Tool by visiting farmers.gov/fund and clicking the "Start" button. Follow the prompts and answer five simple questions to receive loan information that is applicable to your agricultural operation. The tool is built to run on any modern browser like Chrome, Edge, Firefox, or the Safari browser, and is fully functional on mobile devices. It does not work in Internet Explorer.
About Farmers.gov
In 2018, USDA unveiled farmers.gov, a dynamic, mobile-friendly public website combined with an authenticated portal where farmers will be able to apply for programs, process transactions, and manage accounts.
The Farm Loan Discovery Tool is one of many resources on farmers.gov to help connect farmers to information that can help their operations. Earlier this year, USDA launched the My Financial Informationfeature, which enables farmers to view their loan information, history, payments, and alerts by logging into the website.
USDA is building farmers.gov for farmers, by farmers. In addition to the interactive farm loan features, the site also offers a Disaster Assistance Discovery Tool. Farmers can visit farmers.gov/recover/disaster-assistance-tool#step-1 to find disaster assistance programs that can help their operation recover from natural disasters.
With feedback from customers and field employees who serve those customers, farmers.gov delivers farmer-focused features through an agile, iterative process to deliver the greatest immediate value to America's agricultural producers - helping farmers and ranchers do right, and feed everyone.
For more information or to locate your USDA Service Center, visit farmers.gov.
Kiowa County FSA Committee
Destiny Haase - LAA 2 - Central area - Committee Chairperson
Sean Harkness - LAA 1 - East area - Committee Vice-Chairperson
Michael Zimmerman - LAA3 - West area - Committee Regular Member
USDA SERVICE CENTER CONTACT INFORMATION
409 E Lowell Ave.
PO Box 188 - Eads, CO 81036
Telephone 719-438-5851 FSA (Ext 2), NRCS (Ext 3). FSA Fax number: fax2mail 844-332-7501
FSA - Farm Service Agency
NRCS - Natural Resource Conservation Service
KIOWA COUNTY FARM LOAN CONTACT INFO - CALL FOR AN APPOINTMENT
Telephone 719-336-3437 (ext2)
SERVICE CENTER OFFICE HOURS:
Monday through Friday - 8:00 a.m. to 4:30 p.m. Friday, by appointment only.
RECEIVE FSA INFORMATION
Visit website www.Farmers.gov for up to date information on the 2018 Farm Bill.
Receive text messages - Text COKiowa to FSANow (372-669) to subscribe.
Subscribe to GovDelivery emails: Visit www.fsa.usda.gov/subscribe or contact your local FSA Office.
For information on programs visit our website located at www.fsa.usda.gov or like us on Facebook or follow us on Twitter.
USDA is an equal opportunity employer.