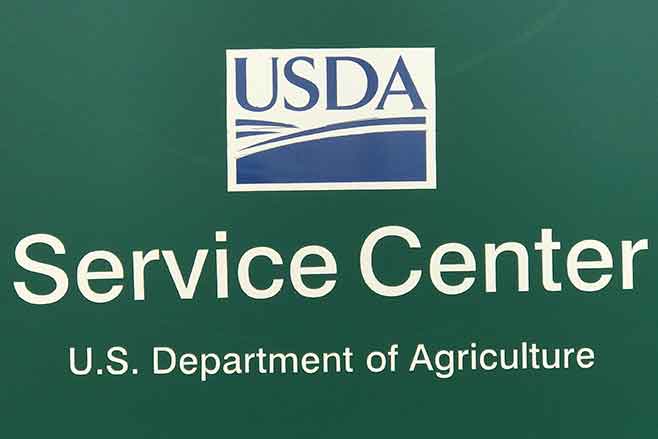 Published
Tuesday, March 14, 2023
IMPORTANT DATES TO REMEMBER
EMERGENCY GRAZING AVAILABLE ON CERTAIN CRP CONTRACTS - after March 15 - 50% reduced stocking rate
February 27, 2023 - April 7, 2023 - CRP General Sign Up 60 signup period
March 15 - July 15 - PRIMARY NESTING SEASON for CRP contracts
March 15, 2023 - 2023 ARCPLC Election and Enrollment
March 15, 2023 - SPRING NAP APPLICATION FOR COVERAGE DEADLINE
June 2, 2023 - ERP Phase 2 and PARP Deadline
Disclaimer: Information in this UPDATE is pertinent to Kiowa County FSA only. Producers reading this and that do not have FSA interest in Kiowa County are advised to contact their local FSA Office.
THE USDA SERVICE CENTER HAS A DROP BOX AVAILABLE ON THE EAST SIDE OF THE BUILDING.
Is the Noninsured Crop Disaster Assistance Program Right for You?
Farmers and ranchers rely on crop insurance to protect themselves from disasters and unforeseen events, but not all crops are insurable through the USDA's Risk Management Agency. The Farm Service Agency's (FSA) Noninsured Crop Disaster Assistance Program (NAP) provides producers another option to obtain coverage against disaster for these crops. NAP provides financial assistance to producers of non-insurable crops impacted by natural disasters that result in lower yields, crop losses, or prevents crop planting.
Commercially produced crops and agricultural commodities for which crop insurance is not available are generally eligible for NAP. Eligible crops include those grown specifically for food, fiber, livestock consumption, biofuel or biobased products, or value loss crops such as aquaculture, Christmas trees, ornamental nursery, and others. Contact your local FSA office to see which crops are eligible in your state and county.
Eligible causes of loss include drought, freeze, hail, excessive moisture, excessive wind or hurricanes, earthquake and flood. These events must occur during the NAP policy coverage period, before or during harvest, and the disaster must directly affect the eligible crop. For guidance on causes of loss not listed, contact your local FSA county office.
Interested producers apply for NAP coverage using FSA form CCC-471, "Application for Coverage," and pay the applicable service fee at the FSA office where their farm records are maintained. These must be filed by the application closing date, which varies by crop. Contact your local FSA office to verify application closing dates and ensure coverage for eligible NAP crops.
At the time of application, each producer acknowledges they have received the NAP Basic Provisions, which describes NAP requirements for coverage. NAP participants must report crop acreage shortly after planting and provide verifiable or reliable crop production records when required by FSA.
Producers are required to pay service fees which vary depending on the number of crops and number of counties your operation is located in. The NAP service fee is the lesser of $325 per crop or $825 per producer per administrative county, not to exceed a total of $1,950 for a producer with farming interests in multiple counties. Premiums also apply when producers elect higher levels of coverage with a maximum premium of $15,750 per person or legal entity.
A producer's certification on Form CCC-860 Socially Disadvantaged, Limited Resource, Beginning and Veteran Farmer or Rancher Certification may serve as an application for basic NAP coverage for all eligible crops beginning with crop year 2022. These producers will have all NAP-related service fees for basic coverage waived, in addition to a 50 percent premium reduction if higher levels of coverage are elected.
For more detailed information on NAP, download the NAP Fact Sheet. To get started with NAP, we recommend you contact your local USDA service center.
USDA Announces General Conservation Reserve Program Signups for 2023
Agriculture Secretary Tom Vilsack announced that agricultural producers and private landowners can begin applying for the Conservation Reserve Program (CRP) General signup starting February 27 through April 7, 2023. CRP is a cornerstone voluntary conservation program offered by the U.S. Department of Agriculture (USDA) and a key tool in the Biden-Harris administration's effort to address climate change and help agricultural communities invest in the long-term well-being of their land and natural resources.
Producers and landowners enrolled more than 5 million acres into CRP through signups in 2022, building on the acceptance of more than 3.1 million acres in the largest Grassland CRP signup in history. There are currently 23 million acres enrolled in CRP, with 1.9 million set to expire this year. USDA's Farm Service Agency (FSA) is aiming to reach the 27-million-acre cap statutorily set for fiscal year 2023.
General CRP
General CRP helps producers and landowners establish long-term, resource-conserving plant species, such as approved grasses or trees, to control soil erosion, improve water quality and enhance wildlife habitat on cropland. Additionally, General CRP includes a Climate-Smart Practice Incentive to help increase carbon sequestration and reduce greenhouse gas emissions by helping producers and landowners establish trees and permanent grasses, enhance wildlife habitat, and restore wetlands.
Continuous CRP
Under Continuous CRP, producers and landowners can enroll in CRP throughout the year. Offers are automatically accepted provided the producer and land meet the eligibility requirements and the enrollment levels do not exceed the statutory cap. The Climate-Smart Practice Incentive is also available in the Continuous signup.
FSA offers several additional enrollment opportunities within Continuous CRP, including the Clean Lakes Estuaries and Rivers Initiative (CLEAR30), the State Acres for Wildlife Enhancement (SAFE) Initiative, the Farmable Wetlands Program (FWP), and the Conservation Reserve Enhancement Program (CREP). The CLEAR30 Initiative, which was originally piloted in twelve states in the Great Lakes and Chesapeake Bay watershed, has been expanded nationwide, allowing producers and landowners to enroll in 30-year CRP contracts for water quality practices. Under this administration, FSA also moved SAFE practices back to the Continuous CRP signup, giving producers and landowners more opportunities to participate in the initiative. Through the FWP, producers and landowners can enroll land in CRP as part of their efforts to restore previously farmed wetlands and wetland buffers, to improve both vegetation and water flow.
This administration has also made significant improvements to CREP, which leverages federal and non-federal funds to target specific State, regional or nationally significant conservation concerns. Specifically, USDA made significant improvements to CREP to reduce barriers and make the program more accessible to a broad range of producers and new types of partners.
These updates included flexibility for partners to provide matching funds in the form of cash, in-kind contributions, or technical assistance, along with an investment in additional staff to work directly with partners. Through CREP, for the first time ever, three Tribal Nations are now partnering with USDA to help conserve, maintain, and improve grassland productivity, reduce soil erosion, and enhance wildlife habitat.
Grassland CRP
FSA will announce the dates for Grassland CRP signup in the coming weeks. Grassland CRP is a working lands program, helping landowners and operators protect grassland, including rangeland and pastureland and certain other lands, while maintaining the areas as working grazing lands.
Protecting grasslands contributes positively to the economy of many regions, provides biodiversity of plant and animal populations, and provides important carbon sequestration benefits to deliver lasting climate outcomes.
How to Sign Up
Landowners and producers interested in CRP should contact their local USDA Service Center to learn more or to apply for the program before their deadlines.
Producers with expiring CRP acres can use the Transition Incentives Program (TIP), which incentivizes producers who sell or enter a long-term lease with a beginning, veteran, or socially disadvantaged farmer or rancher who plans to sustainably farm or ranch the land.
More Information
Signed into law in 1985, CRP is one of the largest voluntary private-lands conservation programs in the United States. It was originally intended to primarily control soil erosion and potentially stabilize commodity prices by taking marginal lands out of production. The program has evolved over the years, providing many conservation and economic benefits.
Maintaining Good Credit History
Farm Service Agency (FSA) loans require applicants to have a satisfactory credit history. A credit report is requested for all FSA direct farm loan applicants. These reports are reviewed to verify outstanding debts, see if bills are paid timely and to determine the impact on cash flow.
Information on your credit report is strictly confidential and is used only as an aid in conducting FSA business.
Our farm loan staff will discuss options with you if you have an unfavorable credit report and will provide a copy of your report. If you dispute the accuracy of the information on the credit report, it is up to you to contact the issuing credit report company to resolve any errors or inaccuracies.
There are multiple ways to remedy an unfavorable credit score:
Make sure to pay bills on time
Setting up automatic payments or automated reminders can be an effective way to remember payment due dates.
Pay down existing debt
Keep your credit card balances low
Avoid suddenly opening or closing existing credit accounts
FSA's farm loan staff will guide you through the process, which may require you to reapply for a loan after improving or correcting your credit report.