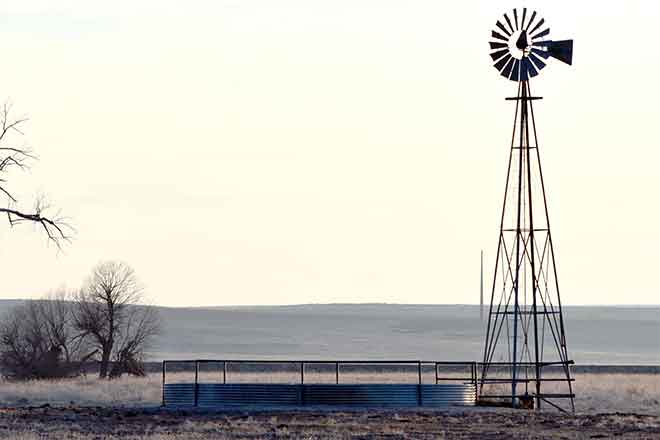 Published
Saturday, November 19, 2016
Partnership between state government, agriculture leaders to focus on energy efficiency, renewables
Colorado farmers and ranchers spend more than $400 million annually on energy, and a series of six workshops to be hosted across Colorado in November and December aims to help producers save money using new energy technology.
The workshops will feature presenters from Colorado State University, the Colorado Department of Agriculture and Colorado Energy Office to discuss energy savings in agriculture, renewable energy opportunities, and funding sources. In addition, Colorado State Climatologist Nolan Doesken will give an update on climate and weather considerations, energy and agriculture.
Former Colorado agriculture commissioners John Stulp and Don Ament are partnering to lead the events. The meetings are cohosted by the Rocky Mountain Farmers Union, Colorado Farm Bureau, Colorado Corn Administrative Committee/Colorado Corn Growers Association, Colorado Livestock Association, Colorado Potato Administrative Committee and Western Dairy Association.
Registration is free, with breakfast or dinner and refreshments included. Attendees are requested to RSVP to the workshop page in their area to reserve a place at the meeting, by visiting the following links or by emailing Darrell Hanavan at dhanavanco@gmail.com.
Wednesday, November 30, 2016
| | | |
| --- | --- | --- |
| Location | Time | RSVP, Agenda and More Information |
| Lamar | 7:30 - 11 a.m. (Breakfast) | |
| Burlington | 5:30 - 9 p.m. (Dinner) | |
Thursday, December 1, 2016
| | | |
| --- | --- | --- |
| Location | Time | RSVP, Agenda and More Information |
| Sterling | 7:30 - 11 a.m. (Breakfast) | |
| Greeley | 5:30 - 9 p.m. (Dinner) | |
Tuesday, December 13, 2016
| | | |
| --- | --- | --- |
| Location | Time | RSVP, Agenda and More Information |
| Montrose | 7:30 - 11 a.m. (Breakfast) | |
Wednesday, December 14, 2016
| | | |
| --- | --- | --- |
| Location | Time | RSVP, Agenda and More Information |
| Monte Vista | 7:30 - 11 a.m. (Breakfast) | |