Image
Youngest students return to school post-pandemic
(The Center Square) – School enrollment among the youngest students in the U.S. jumped 13 percentage points since the pandemic, according to the latest figures from the U.S. Census Bureau. 
The COVID-19 pandemic altered work and school plans in March 2020. Many public schools closed temporarily before shifting to remote learning. Enrollment declined among 3- and 4-year-olds in both public and private U.S. schools, settling at 40.3 percent in 2020.
Image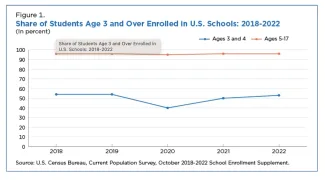 Enrollment has since bounced back. Enrollment for 3- and 4-year-olds was up 13-percentage points to 53.3 percent in 2022 when the pandemic emergency ended. Enrollment was up 2.9 percentage points from 2021. 
Smaller enrollment changes were recorded for students ages 5 to 17 during that period.
School enrollment for 3- and 4-year-olds in 2022 was not statistically different than it was in 2018 and 2019.
"The COVID-19 pandemic transformed many parents' home and work lives, with some changes like shuttered schools and remote learning leading to a drop in enrollment of children ages 3 and 4," according to a report from the Census Bureau. "But new data show enrollment has started to bounce back to pre-pandemic levels."