Image
'You're an ***hole, police chief': Kansas newspaper owner, 98, defiant in video of home invasion
(Kansas Reflector) Marion County, Kansas, Record co-owner Joan Meyer leaned into her walker and stood up to at least six law enforcement personnel executing a search warrant in her living room during a bizarre series of legally questionable raids of her residence, the newspaper's office and a city council member's home.
Meyer, 98, died of cardiac arrest the day after officers and deputies seized electronic devices August 11 from her house despite her protests. She had demanded the uniformed officers leave the home she shared with her son, Marion County Record publisher Eric Meyer.
Image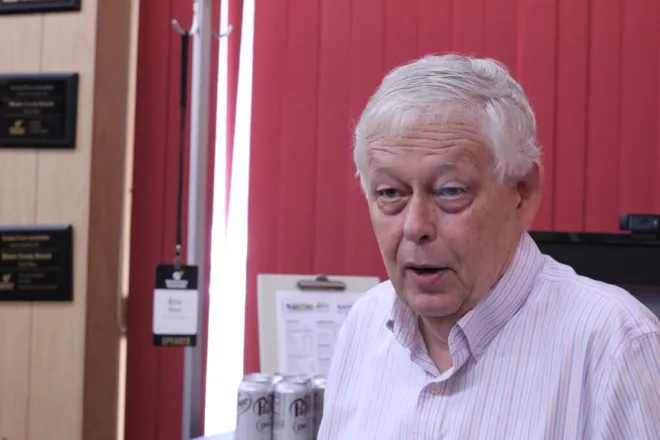 Video evidence released Monday by the Marion County Record showed the search party included Marion Police Chief Gideon Cody, who wielded a freshly signed warrant issued by Magistrate Judge Laura Viar. It was based on the theory someone at the Marion County Record engaged in a prohibited search of a public state database documenting status of driver's licenses issued in Kansas. Numerous First Amendment advocates contend the reporter did nothing illegal.
"Don't you touch any of that stuff," Joan Meyer said on the video. "This is my house."
An unidentified law enforcement officer — city police and county sheriff's deputies were present — said they would soon depart. The officers were in her home for nearly two hours.
"You're an ***hole, police chief," she said. "You're the chief? Oh, God. Get out of my house. Stand outside. What's he doing over there going through the papers?"
"How many computers do you have the house?" an officer inquired.
"I'm not going to tell you," Joan Meyer said. "Get out of my way. I want to see what they're doing. What are you doing? Those are personal papers."
The officer said they were interested in computers and other devices that might have been linked to an alleged identity theft crime.
"You people," she said.
Image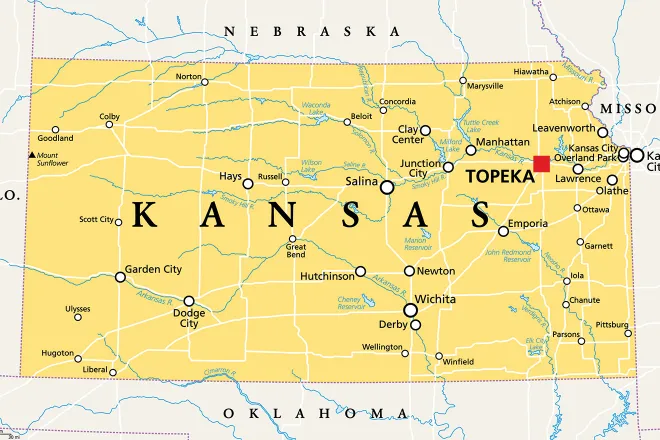 The video of Joan Meyer's living room occupied by law enforcement officers abruptly ended when officers terminated her internet connection.
The memorial service was Saturday for Joan Meyer, who was eulogized by the Rev. Ron DeVore as the epitome of someone who understood living in a small community didn't have to equate to having a small mind. The lifelong resident of Marion filled the newspaper's job of community news editor for decades, working much of that time with her husband, Bill. She also wrote a weekly column for readers of the Record.
Eric Meyer has said the police intrusion into his mother's home was a factor in her death. The coroner's report listed "anxiety and anger she experienced" as a contributing cause of her death, the newspaper reported.
Image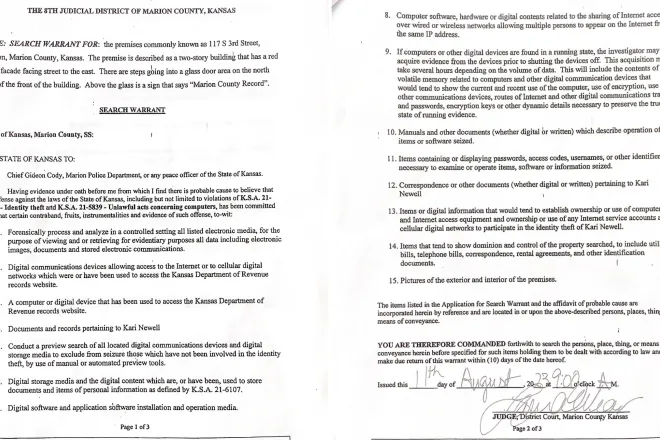 He said his mother predicted she wouldn't live long enough to see those responsible for the raid held accountable.
On the surface, the investigation orchestrated by Marion police and the county attorney centered on whether a Record reporter broke state law by verifying information on a Kansas Department of Revenue website indicating local restaurant owner Kari Newell had lost the right to drive after receiving a DUI in 2008. Newell has sought a liquor license issued through the state.
On Wednesday, Marion County Attorney Joel Ensey withdrew the search warrant. He said there was "insufficient evidence" to justify seizure of computers and other materials from the newspaper. The Kansas Bureau of Investigation was drawn into the controversy.
Image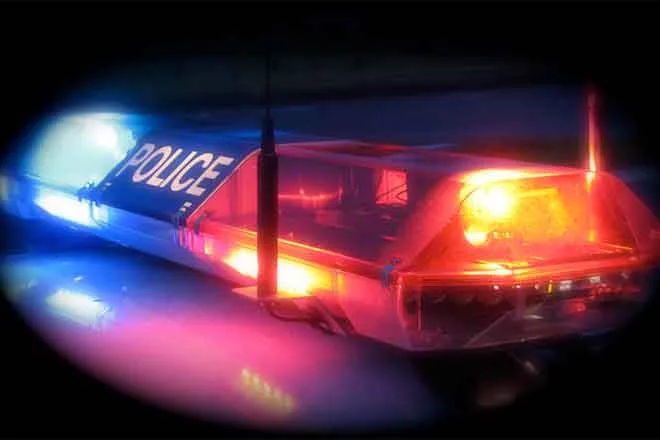 Bernie Rhodes, an attorney from Kansas City, Missouri, retained by the newspaper, subsequently said a review of the probable cause affidavits signed by the magistrate judge and the police chief fell short of providing evidence necessitating the raids. Kansas motor vehicle records are subject to the Kansas Open Records Act.
A spokesman for the Kansas Department of Revenue said it is legal to access driver's license information on the agency's website, the Associated Press reported.
Kansas Reflector is part of States Newsroom, a network of news bureaus supported by grants and a coalition of donors as a 501c(3) public charity. Kansas Reflector maintains editorial independence. Contact Editor Sherman Smith for questions: info@kansasreflector.com. Follow Kansas Reflector on Facebook and Twitter.