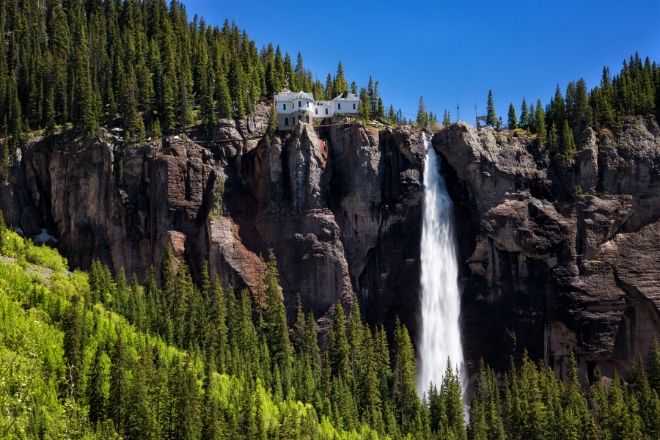 Published
Tuesday, February 11, 2020
Colorado is one of the most breathtaking states in the nation. We may be biased, but breathtaking views, energy, and tranquility seem to be around each corner. Whether you live in the state or you're just visiting, make the most of Colorado's allure and head to some of the best places to take photos in Colorado, from the mountains of Telluride to the sand dunes of Alamosa.
Rocky Mountain National Park
The first location on our list probably isn't a shock to anyone--people have been photographing Rocky Mountain National Park for ages, and for good reason. There's so much to take in and even more to photograph. Whether you're a professional or just a nature-lover on the trail, your options are endless. the area's alpine lakes are always a good place to start--see if you can catch some wildlife in the shot, too.
Bridal Veil Falls
Telluride, Colorado, is full of photogenic spots, and Bridal Veil Falls is just one of them. It's the tallest freefalling waterfall in Colorado, so you're sure to get some magnificent shots. The hike up will also provide you with some great shot opportunities, but make sure to take some time to admire the natural beauty without your camera as well.
Great Sand Dunes National Park
Colorado has a vast variety of geological features, and one of those is the sand dunes near Alamosa. The dunes at Great Sand Dunes National Park are one of the best subjects for photographers, especially those hoping to focus on the way light and darkness hit objects differently. The darkness of the ridges meets the light in ever-shifting patterns--head here in the late afternoon for more dramatic shadows.
Black Canyon of the Gunnison National Park
Located in western Colorado, the Gunnison River canyon is 48 miles long, and the 12 miles within the park are the deepest and most dramatic. Some areas of the gorge are so deep and narrow that they only receive 30 minutes of sunlight a day. Take a drive up to some fantastic views, and snap some shots that inspire you--even the darkest moments can have beauty.
Maroon Lake
As we mentioned above, alpine lakes are great locations for photographers. You'll find one of the most beautiful of these lakes right by the Maroon Bells, near Aspen. It's perfectly positioned so that it constantly reflects the nearby purple- and white-striped peaks. Bring along your tripod to see if you can catch some new angles--this spot is one you don't want to miss.
Dallas Divide
About 30 miles north of Telluride, you'll find the Dallas Divide. No other place in the state seems to encompass such a wide variety of settings in one view. Bring your camera and snap pictures of the ranch country; aspen, spruce, and fir trees; rolling foothills; and jagged peaks.
Mount Evans
If you're not afraid of high-altitude car rides, then you won't want to miss driving along the highest paved road in North America. When you drive up Mount Evans near Idaho Springs, you'll get to admire crystalline lakes, granite walls, mountain goats, and so much more. You probably won't want to put down the camera, but we urge you to spend at least a few minutes admiring the views with your own eyes and not through the lens.