Image
About Town – October 31, 2022
"For He (God) will order His angels to protect you wherever you go." Pslam 91:11
The Scripture above is one of my favorites to speak and pray for people who are traveling and especially when I am driving to and from Kit Carson or Lamar. Mary Ann Koch taught that Bible verse to me many years ago when we were visiting outside Trinity Lutheran Church one evening in Kit Carson as we watched one of her sons cruising around.
Brittanie Newman and Trice Watts, both former Eads residents and graduates, chose Brookings, Oregon, among the tall Sequoia pines in a mountain setting for their wedding recently. Family members and friends flew to Oregon to the beautiful wedding site. Trice has been the CEO of the Tribune, Kansas, hospital for some time. Brittanie is a graduate of Fort Hays University and has a degree to be a physical therapist. Grandparents Shirley Watts and Don and Janice Phfingston were happy to see photos of the handsome couple and parents, Cindy Kelly Newman and Milton and Dawn Rae Watts, and other family members.
Kelli Jensen and daughter, Duff, from Oklahoma and her mother, Marni Rouse, traveled to Fort Collins last weekend to attend and celebrate the wedding of Kelli's son, Rustin Jensen, who was married to Mady Allen, a college friend of Fort Collins. Rustin graduated from Colorado State University last December with a degree in mechanical engineering and is employed in California.
When I was complimenting Bob Miller during lunch at Prairie Pines, he reminded me that he is 95 years old, not 92. He is amazing for that age. Bob does chair exercises, communicates via the computer often, watches television, and carries on a good conversation. He is such a gracious gentleman and loving father and grandfather.
Bleu Ellis and his wife, Amber (Smelker) spent the weekend of October 22 in Salina, Kansas, where he was invited back to Kansas Wesleyan University to be inducted into the Hall of Fame with his teammates, where they were an outstanding team. Bleu is an Eads High School graduate and Lane Gooden's nephew.
There was a lot of excitement around Weisbrod Hospital Tuesday morning because Haily Lenox, who had been working as a CNA the day before, was called to tell her get to La Junta. She and Justin went to the hospital, and Tuesday, great grandmother, Linda Hopkins, was proudly showing photos of the smiling baby, Harper Rose, while her grandmother, Nikki Lenox, was trying to get little big brother dressed to go see his new baby sister.
Again we want to thank Phil Pollreis for giving his wonderful sound system and microphone to the Eads Senior Citizen Center. Also, thank you to Kenny Wilcox for constructing a podium for the center, which was certainly needed for former State Senator and Representative Greg Brophy to deliver facts about voting on the amendments and propositions. 
The Crow-Luther Cultural Events Center board members are organizing entertaining events. To be involved, or a vendor, or in the talent show, do call one of the board members. From 1:00 to 3:00 p.m. one can have photos taken, there will be a Kids Zone, Corn Hole tournament and venders with good foods and goods for sale.
Marty Barnett and his workers have been digging and setting forms for smoothing out a fine cement sidewalk on Maine Street. We are excited to see the next stage of laying the bricks with people's names on them. How exciting this will be to find one's family or business name!
Image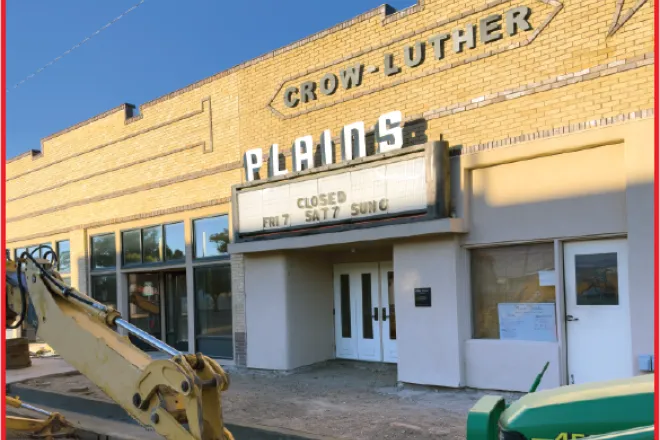 Every Tuesday evening, people can dine at the Cobblestone Inn from 5:30 to 9:00 p.m. It is such a lovely and hospitable place to eat and visit, as well as have a beverage, or something to eat from their menu. Their thick crust pizza is my favorite. 
The Lutheran Women Missionary League rally was a great success, with great Bible studies led by Pastor Tom Barton and Tracey Weeks, a lovely lunch organized by Betsy Evans, and drawings and door prizes. Breanna Echols, writer, inspirational speaker, and wonderful gospel singer of Kit Carson, favored us with a wonderful program. Judy Beeson of Stratton brought Samaritan's Purse red and green boxes for ladies to fill by November 13. Laura Negely, our craft expert, supplied and taught the ladies how to make a beautiful set of chimes to take home. 
Derek Shotton is home after being in a city hospital. What a miracle!
Alvin and Dianna Davis of Haswell enjoyed a gathering of family and friends in La Junta that their daughters hosted to celebrate Alvin's 80th birthday.
Educators Sue Fox and Dawn James have been so busy this fall teaching middle and high school students as they hone their talents to compete in Knowledge Bowl competitions many weekends this fall.
Don and Esther McCoin's estate sale was Saturday morning. Oh, there were so many treasures for sale there. I had a good time watching and buying. 
Some important dates are Wednesday, November 2 - Chamber of Commerce; Thursday, November 3 - senior citizen brunch at 10:00 a.m. in Eads; Wednesday, November 16 - Eads senior citizen Thanksgiving dinner at noon.
Norma Troue Emerson sent this thought: "If you eat today, thank a farmer or (rancher). If it's on your table, thank a Trucker. If you eat in peace, thank a Veteran."