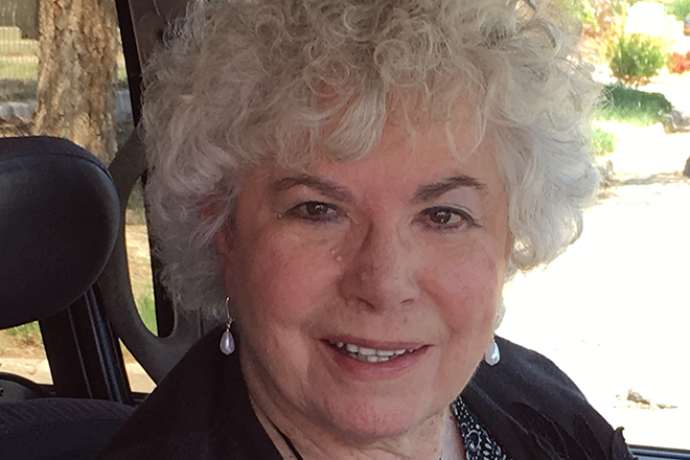 Published
Wednesday, April 6, 2016
By Doris Lessenden
Did you know: Sleeping without a pillow reduces back pain and keeps your spine stronger? Did you know? A person's height is determined by their father? Shared by J.T. Jacobs
Linda Trosper brought a beautiful white quilt with appliqued pink and lavender tulips with an unusual intertwined border to be displayed at the Weisbrod ECU dining room last Thursday. This gorgeous quilt was loaned by Delores Rector which she won in a drawing in Texas. Linda volunteered to find quilts for the Hospital Auxiliary to display through December.
It is time to buy your ticket ($10.00) for the CLCEC (Crow-Luther Cultural Events Center) Annual Meeting Concert now. Next Friday, April 15th, will be a short meeting at 6:00 p. m. followed by the Bar D Wrangler singers from Colorado Springs.
Some Kiowa Countians drove to Springfield Saturday to attend the Annual meeting lunch of the Southeast Power Company. Brad Buck of Eads and Bill Rice of Walsh were re-elected to the Board. It was the lucky day for L.D. Nelson of Eads who won a television and Dr. Cathryn Anderson of Arlington who won $100.00. L.D. and Phyllis said that the 4-H'ers served a nice lunch.
Bunnie Larrew and Jeannie Strong, celebrated their birthdays last week with their friends and family at Prairie Pines and Weisbrod ECU respectively.
The area Middle School youth had their first Track Meet at Holly Last week. The Eads girls came home with the First Place Trophy and boys placed sixth. Thanks to Destiny "Duff" Haase who is the Coach of this group. Seventeen high school girls and boys are training and competing on the Track Team and are doing very well in the competitions. We admire young men and women who care to run and train to keep their bodies in shape and compete for their school. I remember years ago when Mr. Jake Diel said, "If a student wants to go out for football or volleyball (winter sports) I think they should be on the Track team." I agree. When we watched part of the Lamar Invitational Track meet, we saw Mr. Trey Eder and Mrs. Stephanie Bohlander coaching the boys and girls. Mr. Bohlander and little son seemed to be assisting too,
Now that the weather is warmer, there are even more people frequenting the Maine Street Scoop for ice cream. While I waited for my friends to get their dishes of ice cream, I noticed that they had to wait in line outside the Scoop door. One family of five leisurely walked to the Ice Cream Shoppe for their Sunday afternoon treat. Another family was there from Kit Carson while at a silver round table outside, Mike and Commissioner Cindy McLoud visited as people strolled by.
Many people have asked me how my sister-in-law, Bonnie Lessenden, is doing after having brain surgery. We are glad to say that she is home and doing well in her recovery.
Ilene Eder writes from Raytown, Missouri, that she is doing fine but she really does miss her friends from Eads. Hopefully she can return this Spring for a while.
Gary and Thata Hart wrote from Texas, that they are pleased to read the newspapers about Eads friends. Last month they toured Viet Nam and Thailand which they found to be pretty but when they returned to the USA they had to take some recovery time.
Shelly Meyers has been painting pretty spring and school spirit designs on many of the store and business place windows about town. They are delightful. It is so good of her to share her artistic talent.
Mrs. Sharon (Crow) Wilson, Fifth Grade Teacher at Eads Elementary offers a Working Lunch which is voluntary for boys and girls in the fifth grade. It is called STEM Class in which the students have a particular learning project that integrates skills in Science, Technology, Engineering, and Math. The students bring their lunches and learn at the same time. If readers happened to go to the Eads Health Fair in the Elementary School, they may have noticed about five to six foot posters of the human body. Each student had used items like candies, cereal, string, and such to show a digestive process. The students do these projects at home in addition to their homework for classroom assignments. Some other STEM projects were making a ball out of rubber bands to see whose ball bounced the highest, making tables out of card board boxes, catapults to toss melons, and other topics.
This is a big week-end for some families from Kiowa County who practice square dancing on a weekly basis in Lamar. Their Dudes and Dames Dance Revue will be this Saturday, April 9th at the Lamar Community Building. Jeff Scranton's mother, Carla, is the Director of this large group. Parents Mark and Michelle Nelson of Haswell take their children, Emily, Alexa, and Clayton, Joe and Laurie Musgrave of Eads take their sons, Bradley and Aaron, to practices as well as Jeff and Barbara Scranton of Eads who drive their three children, Chris, Brianna, and Megan, to the Community Building for practices.
The Plains theatre has been showing more matinees lately so here is a listing to keep you informed. This week-end, April 8, 9, and 10th it will be, "Batman vs. Superman".
Sunday, April 10th at 2:00 p.m. at 2:00 p.m. the Bolshoi Ballet: "Don Quiote" will be shown as a Fathom Event. The week of April 16 and 17, Saturday at 7:00 p.m. and Sunday, at 2:00 and 6:00 p.m., the highly acclaimed faith based movie, "Miracle of Heaven" will be featured which is a true story about a little girl who had a rare intestinal disease but was later cured. So there are still three chances to see this fine movie because Friday, April 15th will be the Bar D Wranglers Concert.
If readers would like to see some good photos of Eads-Kit Carson Baseball players and some of our high school track team members, they could view them on Face book at Henry Ashida: Ark Valley Sports and News.
Because of warmer weather in February and March, many trees about town have been in full bloom. We were concerned that some had frozen in the last snow, but this week-end the trees were even prettier. Yellow forsythia bushes, daffodils, jonquils, and anemones are bursting out in bloom. We are blest to live in Kiowa County, Colorado!