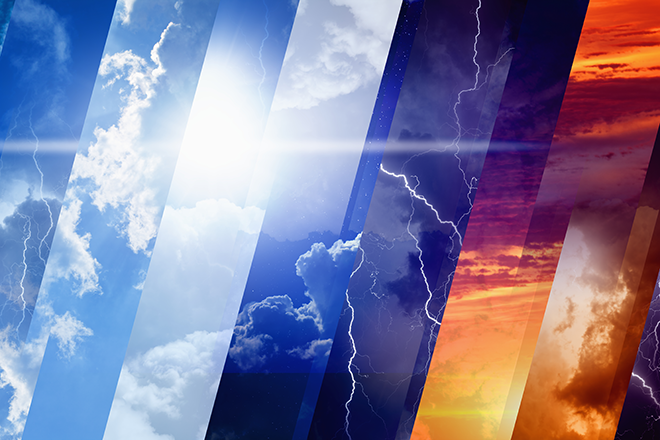 Published
Friday, October 5, 2018
Late summer temperatures draw to a close Friday and drop nearly 30 degrees to the mid-50s for the Columbus Day weekend.
After reaching the mid-80s Friday afternoon, overnight temperatures will fall to around 40 as a cold front drops into the area. Northwest wind will shift to the northeast later in the night, with speeds of 20 to 30 miles per hour expected. Gusts could reach 45 mph.
Cooler air is predicted to remain in place through at least next Thursday, with chances of showers starting Saturday night, continuing through Tuesday night.
Saturday's high will be in the mid-50s, with winds in the 5-10 mph range shifting to the east by the afternoon. Overnight, look for mostly cloudy conditions and a chance of showers after midnight, with the low dropping back to around 40.
Sunday will be a degree or two warmer, with the chance of rain increasing through the day into the evening. Up to a quarter-inch of precipitation is possible. East winds in the 10-20 mph range are expected.
Monday warms to the low 60s for central and eastern Kiowa County, including Eads and Sheridan Lake. Haswell will be slightly cooler, with a high in the upper 50s. A slight chance of rain in predicted during the day. As overnight temperatures fall back to the upper 30s, the chance of showers will increase.
Look for a return of mid-50s Tuesday, with the chance of rain dropping off as the day progresses. Temperatures will be approaching the freezing mark for the first time this season Tuesday night.
Temperature Forecast - October 6 - 9

Saturday

Sunday

Monday

Tuesday

City

High

Low

High

Low

High

Low

High

Low

Haswell

54

40

58

45

59

38

54

33

Eads

55

38

57

46

63

37

56

33

Sheridan Lake

53

41

56

48

63

40

55

35