Image
Ag stats: Wyoming crop progress and condition report – December 2022
Wyoming received little relief from the ongoing drought conditions during the month of December, according to the Mountain Regional Field Office of the National Agricultural Statistics Service.
Precipitation levels were slightly above normal in the majority of the northeast and southwest, while northwestern, southeastern, and far southwestern portions of the State saw less than normal amounts of precipitation.
Temperatures ran below normal for the majority of the State. Portions of northern and west-central Wyoming saw temperatures as much as 6 to 8 degrees below average.
There was little change in drought conditions during December according to the United States Drought Monitor report published on December 29, 2022. The amount of land rated drought free was found in 25.6 percent of the State, compared to 25.7 percent according to the report published on December 1, 2022. The amount of land rated abnormally dry improved somewhat to 20.8 percent compared to 18.4 percent on December 1. Moderate drought was found in 25.0 percent of Wyoming, compared to 27.3 percent on December 1. Severe and extreme conditions remained constant at 22.1 and 6.5 percent, respectively.
Image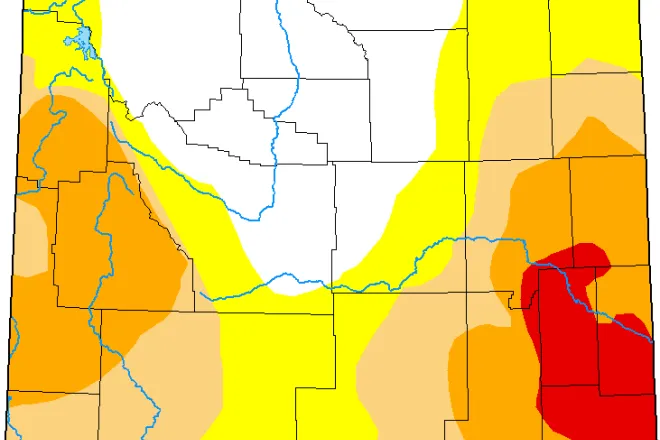 Some snow fall was reported over the last month in Washakie and Hot Springs Counties where grazing conditions were still fair to good.
Reports in Lincoln County indicated significant rain and snowfall with much needed moisture and tolerable temperatures during December. Topsoil moisture levels were reported as 56 percent short to very short, compared with 69 percent on November 27.
Hay and roughage supplies for Wyoming were rated 3 percent very short, 20 percent short, 73 percent adequate, and 4 percent surplus, compared with 30 percent very short, 27 percent short, and 43 percent adequate on November 27.
Stock water supplies across Wyoming were rated 6 percent very short, 17 percent short, 72 percent adequate, and 5 percent surplus, compared with 6 percent very short, 49 percent short, and 45 percent adequate on November 27. 
Note: Monthly reports will be released for January on January 30, 2023; for February on February 27, 2023; and for March on March 27, 2023.
SOIL MOISTURE CONDITION

 

Current report

Previous report

Previous year

5-year average

Topsoil moisture 

(percent)

(percent)

(percent)

(percent)

Very short 

23 

23 

48 

NA 

Short 

33 

46 

24 

NA 

Adequate 

43 

31 

28 

NA 

Surplus 

1 

-- 

-- 

NA 

Subsoil moisture 

 
 
 
 

Very short 

38 

29 

52 

NA 

Short 

28 

45 

25 

NA 

Adequate 

33 

26 

23 

NA 

Surplus 

1 

-- 

-- 

NA