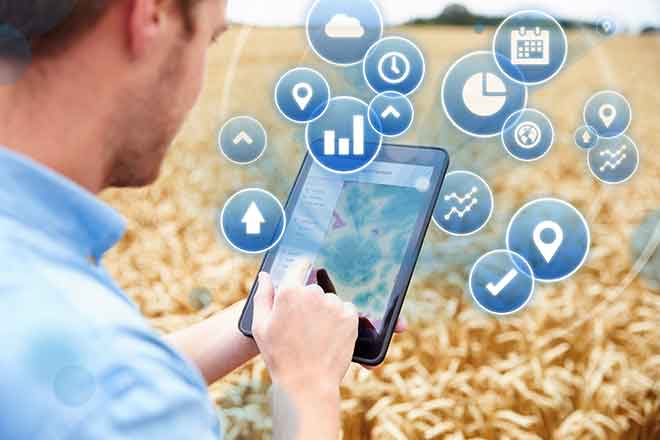 Published
Wednesday, August 25, 2021
This week brought much needed precipitation and cooler temperatures to most of Wyoming, according to the Mountain Regional Field Office of the National Agricultural Statistics Service, USDA.
Most of the State received 0.4 inches or more of rainfall this week. Counties along the western border received substantial moisture, with some areas reporting over an inch of rainfall.
Albany, Goshen, and Platte counties all reported significant rainfall this week. Big Horn County reported significant rainfall as well, but not enough moisture was received to improve grazing conditions or stock water supplies.
Much of the State experienced below average temperatures for this time of year. Daily temperatures for most of the central and western portions of the State were 2 to 3 degrees below average. However, daily temperatures for counties along the eastern border of the State ranged from average to 3 degrees above average for this time of year.
According to the United States Drought Monitor for August 19, 2021, 99.6 percent of the State is experiencing drought conditions, compared to 98.1 percent last week. The amount of land rated as abnormally dry was 5.3 percent, a slight increase from 5.0 percent last week. Moderate drought was present across 34.4 percent of the State, a 6.5 percent increase from 32.3 percent last week. Severe drought covered 29.4 percent of the State, compared to 30.6 percent last week. Extreme drought conditions increased slightly from 30.2 percent last week to 30.5 percent of the State this week.
Despite the much-needed moisture received this week, there were multiple reports that the rainfall was too late to help this year's crops.
Reporters from Lincoln County noted that the rain improved rangeland conditions but did not improve crop conditions. There were similar comments from Niobrara County of welcomed rain, but not enough to make up for the lack of rainfall received this year.
Albany county reported that most of the hay is now harvested, and pastures remain in good condition.
Platte county reported that the rain improved pasture conditions and will help with winter wheat planting. The third cutting of alfalfa hay was reported at 12 percent harvested this week, compared to 21 percent harvested this time last year.
Barley harvest is continuing ahead of last year, with harvest reported at 71 percent complete this week, compared to 62 percent harvested this time last year. Winter wheat planting is underway, with planting reported at 3 percent complete.
Stock water supplies across Wyoming were rated 30 percent very short, 40 percent short, 29 percent adequate, and 1 percent surplus, compared to 37 percent very short, 42 percent short, and 21 percent adequate last week.
Irrigation water supplies were rated 39 percent very poor, 14 percent poor, 19 percent fair, 20 percent good, and 8 percent excellent.
CROP AND LIVESTOCK PROGRESS

Commodity

Current week

Previous week

Previous year

5-year average

(percent)

(percent)

(percent)

(percent)

Alfalfa

2nd cutting harvested

84

81

94

86

3rd cutting harvested

12

1

21

8

Barley

Mature

95

83

86

86

Harvested

71

65

62

67

Corn

Silked

97

85

100

97

Doughed

58

41

82

58

Dented

7

NA

14

5

Dry edible beans

Setting pods

96

75

95

84

Turning color

38

24

37

32

Cut

7

NA

6

2

Winter Wheat

Planted

3

NA

--

--

DAYS SUITABLE FOR FIELDWORK AND SOIL MOISTURE CONDITION

Current week

Previous week

Previous year

5-year average

Days suitable for fieldwork

5.7

7.0

7.0

6.8

Topsoil moisture

(percent)

(percent)

(percent)

(percent)

Very short

33

28

57

25

Short

36

50

26

33

Adequate

28

22

17

40

Surplus

3

--

--

2

Subsoil moisture

Very short

34

34

54

24

Short

35

35

32

36

Adequate

30

31

14

39

Surplus

1

--

--

1

CROP, LIVESTOCK, PASTURE AND RANGE CONDITION

Commodity

Current week

Previous week

Previous year

5-year average

(percent)

(percent)

(percent)

(percent)

Alfalfa hay

Very poor

13

18

--

2

Poor

11

20

16

7

Fair

19

10

18

13

Good

52

47

66

73

Excellent

5

5

--

5

Corn

Very poor

--

--

--

--

Poor

--

--

9

4

Fair

6

5

25

15

Good

90

91

66

80

Excellent

4

4

--

1

Dry edible beans

Very poor

--

--

--

--

Poor

--

--

--

3

Fair

18

18

13

12

Good

79

79

87

84

Excellent

3

3

--

1

Pasture and range

Very poor

32

27

31

11

Poor

31

38

41

18

Fair

25

24

27

35

Good

11

10

1

32

Excellent

1

1

--

4

Sugarbeets

Very poor

3

3

--

--

Poor

8

8

--

2

Fair

27

27

6

15

Good

61

61

94

80

Excellent

1

1

--

3

Livestock

Very poor

--

--

--

--

Poor

4

5

3

2

Fair

34

37

21

13

Good

61

57

76

80

Excellent

1

1

--

5