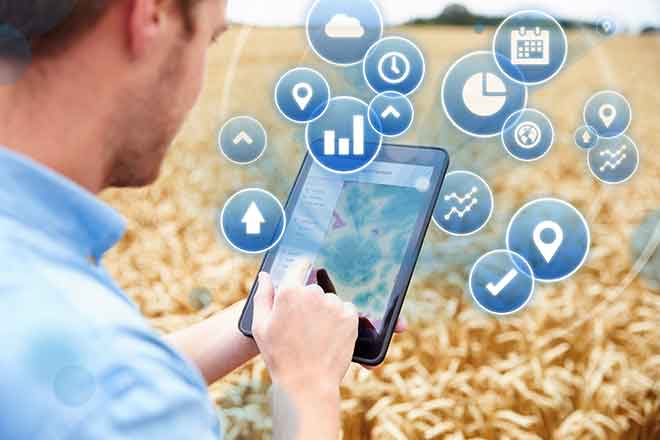 Published
Monday, May 9, 2022
The week brought above average temperatures to most of Wyoming, according to the Mountain Regional Field Office of the National Agricultural Statistics Service, USDA.
Temperatures were highest in the northern portions of the State, while areas of the southeast experienced below average temperatures.
Rainfall totals varied, but in most portions of the State precipitation was below normal. In outlying areas of the northwest and southeast, however, averages were above normal. Isolated areas of central Wyoming benefitted the most with as much as 2.0 inches of rain and above.
According to the United States Drought Monitor for May 5, 2022, the amount of land rated as abnormally dry was 5.9 percent, unchanged from last week. Moderate drought was present across 38.4 percent of the State, an increase of 3.2 percentage points from 35.2 percent last week. Severe drought covered 47.6 percent of the State, compared to 40.6 percent last week. Extreme drought conditions improved, falling to 8.1 percent of the state compared to 18.3 percent last week.
Precipitation amounts varied in Big Horn County where northern portions of the County remained extremely dry. Only 0.40 inches of moisture were reportedly received in northern areas since the start of the year.
Reports from Goshen County indicated precipitation replenished soils though moisture was insufficient and too late for some farmers. High winds once again dried fields.
In Laramie County, rains revitalized struggling crops. Soil moisture levels held for a while until high winds returned and dried fields and ranges.
Comments from Lincoln County indicated cool and wet conditions, as subsoil remained cold, and lands were too wet for field activities. Grasses and alfalfa were growing, with concerns alfalfa might still be affected by frost.
In Niobrara County, crop and rangeland conditions improved from the snow and rain. Stock water supplies also benefitted from the moisture and a report indicated a high number of livestock were killed due to the snowstorm that occurred April 23, 2022.
Comments from Platte County indicated good moisture alleviated the drought that has lingered for over 10 months. Pastures were greening and winter wheat was growing well. Farmers were planting spring crops and were expected to tap into irrigation water soon.
In Weston County, forage was greening but short due to poor growing conditions.
Irrigation water supplies were rated 3 percent very poor, 28 percent poor, 52 percent fair, and 17 percent good, compared to 3 percent very poor, 31 percent poor, 43 percent fair, and 23 percent good last week.
Stock water supplies across Wyoming were rated 25 percent very short, 32 percent short, 42 percent adequate, and 1 percent surplus, compared to 20 percent very short, 29 percent short, and 51 percent adequate last week.
Cattle death loss was rated as 10 percent heavy, 57 percent average, and 33 percent light.
Sheep death loss was rated as 4 percent heavy, 57 percent average, and 39 percent light.
CROP AND LIVESTOCK PROGRESS

Commodity

Current week

Previous week

Previous year

5-year average

(percent)

(percent)

(percent)

(percent)

Barley

Planted

88

83

89

89

Emerged

70

55

67

61

Corn

Planted

29

2

27

33

Sugarbeets

Planted

60

48

71

61

Emerged

19

3

27

20

Winter wheat

Jointed

20

12

15

22

Booted

2

--

--

NA

Cattle and calves

Cows calved

89

84

87

89

Sheep and lambs

Ewes lambed

72

68

63

69

Sheep shorn

78

71

77

83

DAYS SUITABLE FOR FIELDWORK AND SOIL MOISTURE CONDITION

Current week

Previous week

Previous year

5-year average

Days suitable for fieldwork

44

59

54

52

Topsoil moisture

(percent)

(percent)

(percent)

(percent)

Very short

42

51

25

7

Short

25

25

28

18

Adequate

33

24

45

71

Surplus

--

--

2

4

Subsoil moisture

Very short

43

52

31

10

Short

34

34

32

19

Adequate

23

14

36

67

Surplus

--

--

1

4

CROP, LIVESTOCK, PASTURE AND RANGE CONDITION

Commodity

Current week

Previous week

Previous year

5-year average

(percent)

(percent)

(percent)

(percent)

Alfalfa hay

Very poor

3

NA

1

NA

Poor

11

NA

2

NA

Fair

43

NA

35

NA

Good

42

NA

58

NA

Excellent

1

NA

4

NA

Other hay

Very poor

1

NA

1

NA

Poor

5

NA

3

NA

Fair

55

NA

29

NA

Good

39

NA

65

NA

Excellent

--

NA

2

NA

Pasture and range

Very poor

35

39

18

5

Poor

18

19

29

12

Fair

25

29

31

28

Good

21

13

21

50

Excellent

1

--

1

5

Winter wheat

Very poor

8

9

1

3

Poor

34

43

4

7

Fair

45

40

71

40

Good

13

8

23

46

Excellent

--

--

1

4

Livestock

Very poor

--

--

1

1

Poor

2

4

1

2

Fair

17

18

27

17

Good

79

77

70

76

Excellent

2

1

1

4