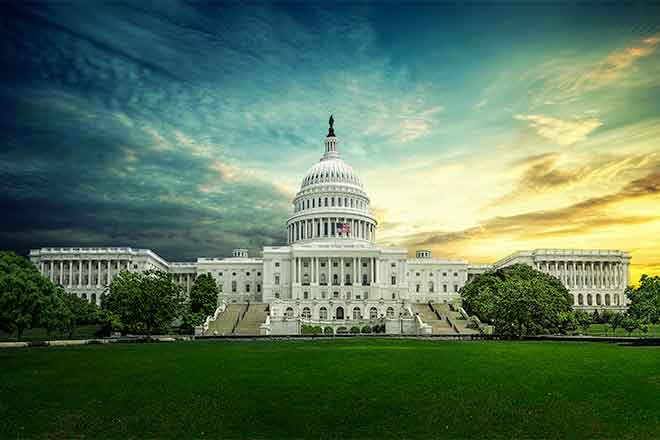 Published
Wednesday, January 27, 2021
(The Center Square) - After receiving commitments from two Democratic colleagues that they wouldn't abolish the filibuster, Senate Minority Leader Mitch McConnell says he'll hand over the chamber's legislative gavels to Majority Leader Chuck Schumer.
The U.S. Senate is actually split 50-50 between Republicans and Democrats, but Democratic Vice President Kamala Harris holds the tie-breaking vote.
McConnell, R-Kentucky, had previously sought to reach an agreement from Democrats that they would allow a power sharing structure similar to what the two parties agreed to in 2001 but also to promise not to abolish the filibuster.
The parliamentary move, targeted by both Republicans and Democrats when they've attained majorities, is meant to block legislation by debating at length or offering a host of other procedural roadblocks. It can be avoided with a 60-vote consensus.
McConnell dropped that caveat after receiving commitments from Sen. Kyrsten Sinema, D-Arizona, and Joe Manchin, D-W. Virginia, that they would not change course on previous statements preserving the filibuster.
Under the 2001 power sharing agreement, committees would see an equal number of Democrats and Republicans. Legislation or nominations that resulted in a tie vote would be sent to the floor for consideration.
Democrats, empowered by sweeping Georgia's two Senate run-off elections earlier this month, called that request a "non-starter."
"If this filibuster has become so common in the Senate that we can't act, that we just sit there helpless, shame on us," Senate Majority Whip Dick Durbin, D-Illinois, said on NBC's Meet the Press Sunday. "Of course, we should consider a change under the rules in those circumstances."
In a speech on the Senate Floor Tuesday, McConnell made it clear that he was moving forward with the organizing resolution now that Democrats didn't have the required 60 votes to abolish the filibuster.
"Basic arithmetic now ensures that there are not enough votes to break the rule," he said. "This victory will let us move forward with a 50-50 power-sharing agreement containing all the elements of the 2001 model. Because it will sit on the same foundation."
McConnell noted that President Joe Biden had defended the filibuster when he was a senator from Vermont.
Should Senate Democrats have abolished the filibuster, McConnel warned of "immediate chaos" that would have ensured little accomplishment.
"If this majority went scorched-earth, this body would grind to a halt like we've never seen," he said.
"Technically, it takes collegiality and consent for the majority to keep acting as the majority at any time they do not physically have a majority. In a scorched-earth, post-nuclear Senate that's 50-50, every Senate Democrat and the Vice President could essentially just block out the next two years on their calendar."
A spokesman for Schumer said Monday that Democrats are "glad Senator McConnell threw in the towel and gave up on his ridiculous demand."