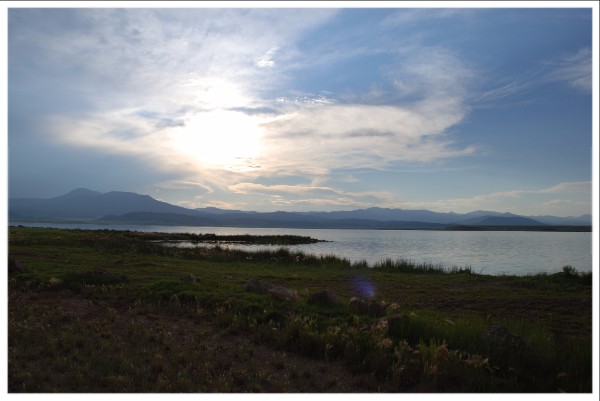 Published
Friday, May 26, 2017
Antero Reservoir will reopen to anglers June 5, at 9:00 a.m. after a major rehabilitation project on Antero Dam.
"Denver Water is very excited to reopen the reservoir to recreation," said Brandon Ransom, Denver Water's manager of recreation. "We fully understand that fishing and camping are major contributors to the South Park economy, and we consider it a privilege to be able to contribute to the recreational opportunities in the region."
One of the benefits that will come from the dam rehabilitation project is a deeper reservoir. Denver Water will be returning the reservoir to water levels that were maintained prior to 2011, deepening the reservoir by 2 feet when it is full. Expected levels could reach 18 feet. This additional depth will provide better conditions for the fish in the reservoir, and help reduce the threat of winter kill.
"Colorado Parks and Wildlife staff has worked hard to rebuild Antero's fishery," said Jeff Spohn, Colorado Parks and Wildlife's aquatic biologist for Antero Reservoir. "The fishery is well established but due to the speed that the reservoir refilled, anglers should not expect the size structure of the fish to resemble what they experienced in 2007."
The bag and possession limit for trout is 2. Fish caught and placed on a stringer, in a container or live well, or not returned to the water immediately count in the daily bag and possession limit.
"Angler's are reminded to respect this special resource by not playing your fish to exhaustion," added Jeff Spohn, "please use strong fishing line, medium to heavy weight fishing poles, and stronger tippets to minimize delayed hooking mortality if you choose to release the fish you catch."
On June 5 and until further notice, only shore angling and the following hand-launched watercraft will be permitted: kayaks, belly boats, float tubes, and canoes. Watercraft is not permitted to be launched from a trailer or to use gas, diesel, or electric powered motors.
"The project brought the dam up to current safety standards, allowing us to restore our normal water levels," said Casey Dick, Denver Water dam safety engineer. "We're happy that the construction timeline and budget is on schedule. And, with help from the weather over the past two years, we're in a position to restore water to normal levels this year - ahead of schedule."
Denver Water is still completing the fourth and final phase of this project and recreation users will still see construction activity on the south side of the reservoir. The area between the south boat launch and south side dam day-use area will remain closed to the public during construction. Recreationists are asked to stay safe by following signage, remaining cautious and being patient while this work is completed.
Campsites have been updated and will be open to the public beginning June 5. The same rules and regulations will apply when Antero reopens to the public. For more information on rules and regulations for camping, visit: http://www.denverwater.org/Recreation/Antero/