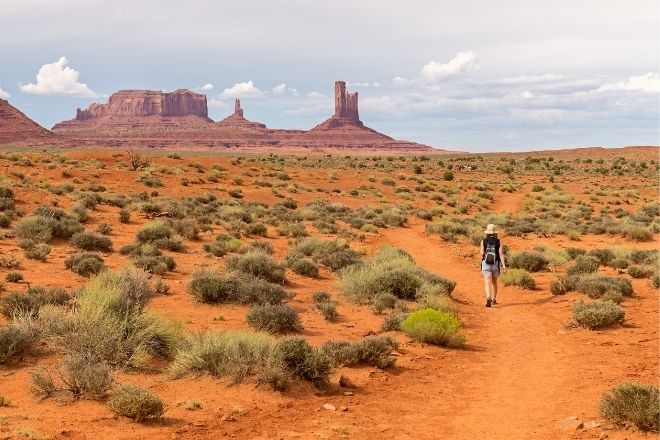 Published
Thursday, August 26, 2021
When we think about the state of Utah, a few images immediately come to mind. We picture the champagne snow of Park City resorts and the vast expanse of the Great Salt Lake. Basketball fans know the raucous atmosphere that surrounds the NBA's Utah Jazz. And in Salt Lake City's Temple Square, we can already envision the trumpeting angel and pointed spires of the grand but forbidding Salt Lake Temple--the headquarters of the Church of Jesus Christ of Latter-Day Saints.
These people, places, and things are all concentrated within northern Utah's Wasatch Front--the population corridor running roughly from the Idaho border to the city of Provo, home of Brigham Young University. While most Utahns live along these mountains, that leaves a whole lot of the state to explore. Southern Utah isn't full of the snowy peaks and suburban sprawl of the Salt Lake City region. Instead, it's a world unto itself, bearing more in common with Nevada and Arizona than with the Utah that outsiders know. Here are some of the best reasons to vacation in Southern Utah and explore this other side of the Beehive State.
Zion National Park
Without a doubt, this is the foremost attraction in southern Utah. With the state's Mormon heritage, it should come as no surprise that such a beautiful area would take this name. Located about 25 miles from southern Utah's largest city of St. George, it's an ideal day trip and an even better camping destination--sleeping under the stars has never been this starry. After all, you wouldn't come to southern Utah to stay in a motel, would you?
Off-Road Opportunities
From north to south, Utah is bursting with opportunities for Jeep Wrangler owners and off-road enthusiasts to break free of the highways and conquer the unpaved paths most motorists never get to see. Peek-a-Boo Canyon and Sand Hollow State Park, both close to Zion and St. George, are two of the best off-road destinations Utah has to offer. Both give off-roading enthusiasts ample opportunities to make the most of their Jeep ownership.
Fishing Among the Red Rocks
When it comes to fishing excursions, most people head beyond Minnesota for the remote and chilly waters of Manitoba and Northwest Ontario. But to be a complete angler, you should make a point of fishing in the unique landscape of southern Utah. It's not all an arid, desolate desertscape--all around Zion National Park, you can fish for trout, bass, and other popular game fish. Make your pilgrimages north, by all means, but don't leave these southwest locations off your list.
Golfing Unlike Anywhere Else
You've hit the links in Florida and the familiar courses back north. One of the best reasons to vacation in southern Utah is to get 18 holes in--or more--on courses that border the red rocks and desert lands of the region. If your goal as a golfer is to tee off in each of our 50 states, southern Utah is the part of the Beehive State to do it.