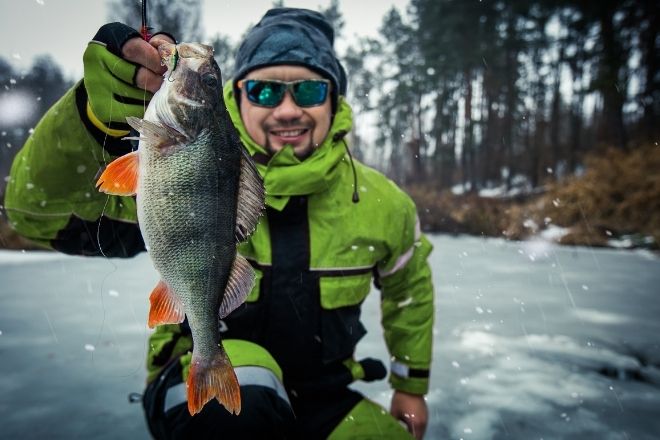 Published
Tuesday, January 4, 2022
Looking for a challenge this winter? Grab your bait and tackle and go fishing. Many classic spots may have entered their off-season, but check out some of the best winter fishing destinations in America for a unique and rewarding day's fishing.
Lakes Mitchell and Cadillac, Michigan
These two lakes are known to anglers for their supreme ice fishing. Head up between December and February for thick ice and a cornucopia of fish, including bluegill, walleye, and northern pike. Michigan offers dozens of old-fashioned ice fishing opportunities, but these lakes are the most popular.
Hells Canyon, Idaho
The Salmon River, adjacent to the marvelous Hells Canyon, is home to a bounty of steelhead trout in the winter. The Snake River is also full of game fish like bass and sturgeon. For cold-weather fishing on rushing rivers, head out to this canyon that straddles the borders of Idaho and Oregon.
Brainerd, Minnesota
To pop-culture aficionados, it's known as the setting for the critically-acclaimed 1996 film Fargo. To avid fishing enthusiasts, though, Brainerd is home to the biggest ice fishing experience on the planet! This January, head out to the Brainerd Jaycees Ice Fishing Extravaganza. Reel in walleye and northern pike while contributing to various charities in the area.
Kailua Kona, Hawaii
If you'd rather do your fishing in shorts and a T-shirt this winter, escape the cold and head to Hawaii. Reel in mahi-mahi, spearfish, and bigeye tuna while enjoying the balmy weather. December and January are peak fishing months! At the end of your day, kick back on the beach and enjoy that tropical sunset.
Flaming Gorge, Utah
A unique fishing spot due to its diversity, wintertime brings new opportunities for anglers. The southern end of the gorge sees no ice during the winter--but the northernmost parts do. Choose which fishing style suits you this season, and enjoy reeling in lots of burbot! Burbot are an invasive species of fish illegally introduced years ago, so you can catch as many as possible. (Pro tip: they taste incredible!)
This winter, do something unconventional with your vacation time. The best winter fishing destinations in America will provide engaging experiences and lasting memories. Why not take a long weekend and spend quality time with your rod and tackle?