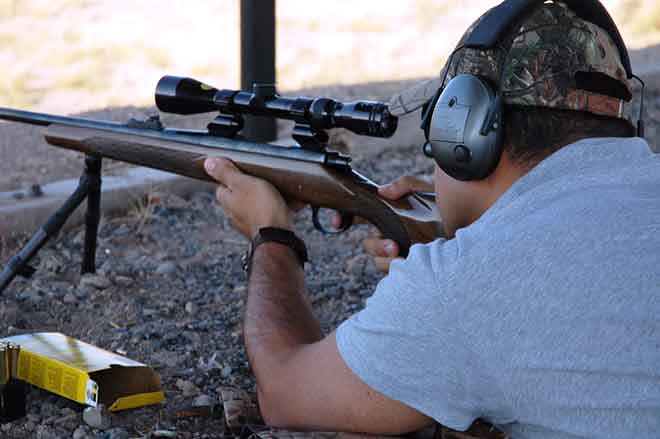 Published
Wednesday, November 21, 2018
The Southern Shooting Partnership - a group of counties, state and federal agencies and public utilities working to develop safe, recreational sport shooting facilities in the Pikes Peak region - announced Tuesday it will launch a listening tour in December to gather public input on recreational sport shooting.
The first event in the tour will be a December 7 public meeting in Calhan to discuss Colorado Parks and Wildlife's proposal to develop a free, unsupervised public shooting range at the Ramah State Wildlife Area in northeastern El Paso County.
In coming weeks, the SSP partner organizations will host more public meetings to engage sportsman groups, neighbors, outdoor enthusiasts and other stakeholders in furthering its goals, which include:
Identifying viable locations for a variety of recreational sport shooting facilities throughout the southern Front Range;
Identifying areas where recreational sport shooting activities may be inappropriate;
Developing an information and education program that promotes safe and responsible shooting;
Facilitating the sharing and leveraging of financial, technical and staff resources of the partner agencies to plan and implement actions in a coordinated manner.
"Colorado Parks and Wildlife is excited to be a member of the Southern Shooting Partnership and to be developing safe new ranges for the shooting public," said Frank McGee, CPW area wildlife manager in the Pikes Peak region.
"And we are proud to be proposing a new range at Ramah State Wildlife Area as the first project of the new partnership. It's important we build on the success of the federal, state and local government collaboration that resulted in construction of the Cheyenne Mountain Shooting Complex at Fort Carson."
Recreational sport shooting is a popular activity along Colorado's Front Range. Opportunities, however, are limited in cities, counties and lands managed by other natural resource agencies.
"The U.S. Forest Service manages the vast majority of federal public land covered by this partnership," said Dave Condit, Deputy Forest Supervisor, Pike and San Isabel National Forests, Cimarron and Comanche National Grasslands.
"We fully support all recreational uses, but conflicts do occur. We want the public to share their views so that the partnership effort incorporates the needs of shooters, other recreationists and private landowners."
Further, the SSP partners recognize that public lands host a variety of recreational activities such as hiking, biking, camping, OHV riding, snowshoeing and much more.
"The vast population growth along the Front Range has spurred a huge increase in all types of recreation on our public lands," said Andy Hough, Douglas County representative and chairman of the SSP board.
"In some cases, this surge is impacting the natural values of the land that we all treasure, straining agency resources and causing friction between uses. The partnership is a group of concerned government agencies working together to find creative solutions to better manage one aspect of this recreational surge . . . recreational shooting."
The close proximity to the Colorado Springs metro area and other Front Range communities, combined with high visitation by a wide variety of outdoor enthusiasts, results in conflicts with recreational sport shooting activities. These conflicts typically revolve around concerns over safety, noise, wildfire, user conflicts, vandalism and trash.
The SSP hopes to offer shooters safe locations to shoot. Using a balanced approach with input from various constituencies, the SSP intends to identify areas appropriate for dispersed shooting, designated shooting areas and areas where recreational sport shooting should be prohibited.
The SSP formed with the goal to research, identify and create safe opportunities for recreational sport shooting that do not conflict with other uses of public lands.
Recreational shooting, as with all recreational activities on public lands, are governed by federal, state and local regulations. It is the shooter's responsibility to know where they are and which regulations apply.To learn more, visit: www.douglas.co.us/dcoutdoors/southern-shooting-partnership-ssp/
Plan to Attend
What: CPW hosts public listening session to discuss proposed shooting range at Ramah State Wildlife Area
When: 5-7 p.m., Friday, Dec. 7
Where: Clarence G. Dzuris VFW Post 5221, 568 Colorado Ave, Calhan, Colo. 80808