Image
Celebration of Life – Marlynn Kay Eikenberg
Image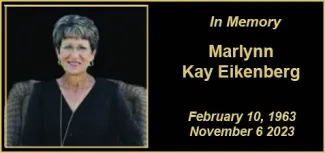 Marlynn Eikenberg was born February 10, 1963, in Eads to Marlin and Betty (McKnight) Eder and passed away November 6, 2023, at her home in Haswell surrounded by her family.
She is preceded in death by her father, Marlin Eder; father-in-law, Delmer Eikenberg; mother-in-law; Delores Eikenberg; paternal grandparents, Raymond and Hannah Eder; and maternal grandparents, Glenn and Helen McKnight. 
Marlynn is survived by her mother, Betty Clark of Eads; husband, Delton Eikenberg of the family home in Haswell; children, Haley (Jason) Reedy of Lamar, Casey (Shannon) Gibbs of Haswell, and Dusty Eikenberg of Haswell. She is also survived by her grandchildren, Reygan Gibbs, Kinley Reedy, Giana Gibbs, Gage Gibbs, Brock Reedy, and Cheyanne (Draven) Adame; great grandson, Lincoln Adame, along with one great grandchild on the way; brother, Lonnie (Debbie) Eder; sisters-in-law, Delinda (Allen) Davisson, Delene (Roger) DeGroot, and Delisa (Mike) Weeks; brother-in-law, Delmar (Cindy) Eikenberg; and significant other to Marlin Eder, Pat Roper; as well as numerous nieces, nephews, and a host of family and friends. 
A celebration of life will be held at the Haswell Community Building at 11:00 a.m. Tuesday, November 14, 2023.
Memorial contributions may be made to Praise Community Church in Eads, or Lamar Area Hospice, either direct or in care of the funeral home.
Arrangements are under the direction of Brown Funeral Home.