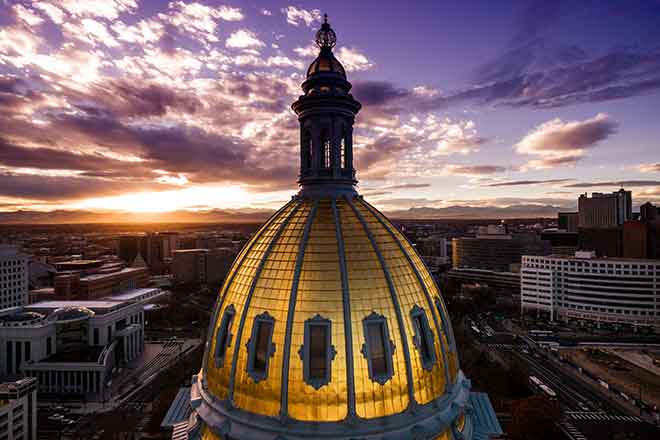 Published
Wednesday, February 17, 2021
(The Center Square) - Colorado lawmakers returned to the Capitol to complete the 2021 legislative session on Tuesday after a month-long hiatus.
Lawmakers passed bills allowing for remote participation in the session, revamped state laws concerning electronic wills, and reduced income tax liabilities for certain taxpayers during the three-day soft open in January.
After the hiatus, lawmakers are focusing on economic recovery, bolstering wildfire mitigation efforts, expanding broadband access for rural residents, and taking a look at how the state allocates its education dollars, among other key issues.
"We come ready and willing to not just recover from this pandemic and the civil discord that has gripped our nation - but build back a stronger, more just Colorado," Senate President Leroy Garcia, D-Pueblo, said in his opening remarks.
"Like the trials of previous generations, this pandemic has and will make us stronger, but it will also make us more connected, more human," he added. "Not because such a conclusion is a given but because we can choose to alchemize pain into purpose."
House Minority Leader Hugh McKean, R-Loveland, highlighted some of the state's recent bipartisan successes and pledged to offer "the very best ideas, the very best practices and the ethic of doing what it takes for everyone - everyone - to succeed."
"We come from different regions, different communities, different backgrounds but we have so much in common that we can together overcome all the differences in the world. We simply need to listen and seek to understand before we act, to walk as much of a mile in another person's shoes as we can, and be reminded that the connection we all share is that we are just people," he continued.
Here are several key bills introduced on Tuesday:
Wildfire Funding
A bill seeks to transfer money from the state's general fund to wildfire mitigation efforts. The legislation, which has bipartisan sponsorship, would allocate $6 million to a grant program for forest restoration and wildfire mitigation, $3 million to a wildfire preparedness fund, and $4 million to the Colorado Water Conservation Board Construction Fund.
Wildfire mitigation will be a key topic throughout the legislative session, as the state was hit with historic wildfires last year amid the ongoing COVID-19 pandemic.
Water enterprise
Senate Bill 21-034, introduced by Sen. Don Coram, R-Montrose, would create an enterprise fund with fees paid by consumers. The revenue generated by the enterprise would go towards grants or loans for water providers in the state.
"The fee for each individual metered connection in a drinking water supplier's public water system is 25 cents per 1,000 gallons of drinking water delivered per month in excess of the first 4,000 gallons of drinking water delivered in that month to the individual metered connection," according to the bill's description.
Broadband expansion
Legislation introduced by Sen. Kerry Donovan, D-Vail, and Rep. Dylan Roberts, D-Avon, tweaks the state's definition of a broadband network and seeks to overhaul the state's broadband deployment board from 16 members down to nine members. Senate Bill 21-060 also proposes that the board create a reimbursement program of up to $600 for eligible, in-need families with K-12 students.
Education funding
While community members are calling for lawmakers to replenish the $1.3 billion withdrawal lawmakers made from the state education coffers to balance the 2020 budget, Democratic-sponsored legislation would make fiscal tweaks so education funding levels are maintained.
Sen. Paul Lundeen, R-Monument, also introduced a bill that would provide funding "to parents of eligible students for the purchase of educational services and supplies for the eligible student," according to the bill's text.
Emergency public health order requirements
Sen. Bob Gardner, R-Colorado Springs, introduced legislation that would require emergency public health orders issued by state agencies to comply with the Administrative Procedures Act. It would also require government agencies to comply with rule-making procedures regarding hearings and notices for emergency declarations going forward.
Diaper legislation
Sen. Brittany Petersen, D-Lakewood, and Reps. Serena Gonzalez-Gutierrez, D-Denver, and Kerry Tipper, D-Lakewood, introduced a bill to provide emergency diapers, diaper cream, and baby wipes to eligible individuals. Senate Bill 21-027 is expected to cost taxpayers $2 million in fiscal year 2021-2022, according to the bill's fiscal note.
Businesses exempt from COVID closures
Senate Bill 21-005, introduced by Sen. Rob Woodward, R-Loveland, and Rep. Colin Larson, R-Littleton, would exempt some businesses from having to close due to public health orders. Under the bill, eligible businesses would include retail shops where a product is offered at another business not forced to close, or businesses that comply with "with any safety precautions that the order requires of businesses that are permitted to continue operations."