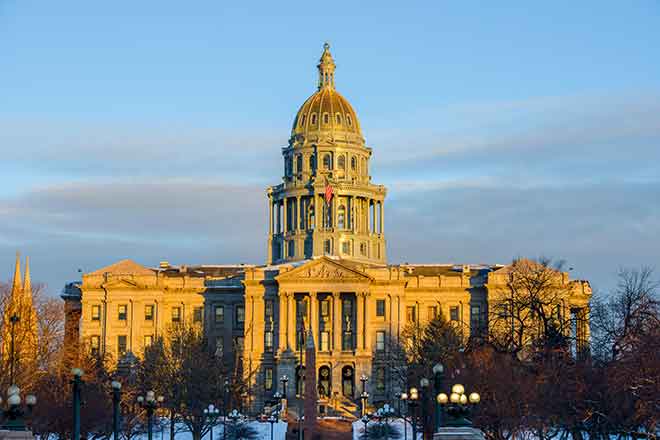 Published
Tuesday, March 16, 2021
(The Center Square) - Colorado's state government offices in Denver were closed Monday due to heavy snow that occurred over the weekend across much of the Front Range, the governor's office announced.
Gov. Jared Polis' office on Sunday also urged Coloradans to avoid travelling "unless absolutely necessary."
Polis on Thursday authorized the Colorado National Guard "to provide search, rescue, and shelter assistance," citing the anticipated winter storm.
"State facilities essential to public health and safety will maintain regular operating schedules and 'essential personnel' must report to work at their normal scheduled time," a news release said. "Employees who are working from home will maintain regular work schedules."
The Colorado General Assembly was also closed on Monday but expected to resume business on Tuesday.
Denver International Airport got 27.1 inches, while Arvada got 26.5 inches and Boulder got about 20 inches,
lon=-104.99&hr=48">according to the National Weather Service.
As of Monday morning, over 1,400 Denver flights have been cancelled in the past 24 hours, according to FlightAware, a flight tracking website. The airport said its runways were closed until 2 p.m. until to clear snow and ice.
More than 32,000 people were without power in Northern Colorado at one point on Sunday, Denver 7 reported.
As of Monday morning, Xcel Energy reported 407 outages still affecting more than 21,000 customers.
The Colorado Department of Transportation (CDOT) reported "many road closures" Sunday even before the winter storm peaked later in the day.
"Heavy accumulations of snow, snow packed and icy roads, and low visibility will continue well into the evening along I-70, I-25 and other highway corridors in the foothills and the Front Range," CDOT said Sunday.
The Colorado Avalanche Information Center also warned of "considerable" danger for avalanches along the Front Range, west of Fort Collins and Boulder, as of Monday morning.
"Avalanche conditions remain dangerous following a large upslope storm," the center said. "Expect that avalanches can run in unusual locations, even down to lower elevations."