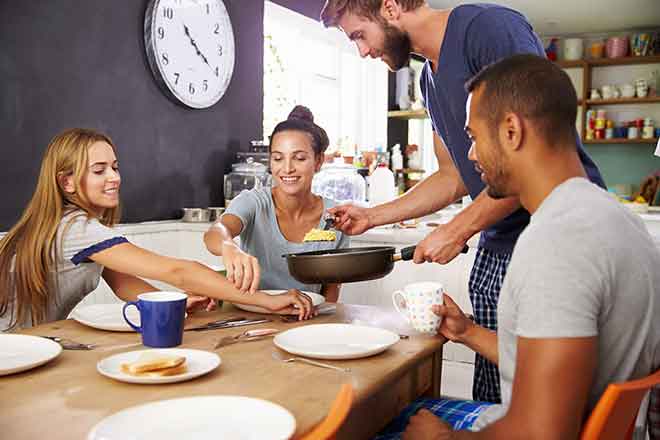 Published
Saturday, September 19, 2020
Black beans mixed with cumin, onion, and garlic make the base for these vegetable enchiladas. Bake them in the oven and top them with cheese for a satisfying meal.
Ingredients
1 tablespoon oil
1 onion (medium, chopped)
3 garlic (cloves, minced)
2 cups black beans (cooked)
1/2 can kernel corn (15.2 ounces, drained and rinsed)
1 teaspoon cumin
2 cups prepared salsa (divided)
8 corn tortillas
1/2 cup Monterey Jack cheese (shredded)
Directions
In a large skillet heat oil over medium-high heat; saute onion and
garlic 2-3 minutes.
Add beans, corn, cumin and 1/2 cup salsa. Cook 3-4 minutes, coarsely mashing beans with back of spoon.
Spoon 1/3 cup filling onto each tortilla; roll up.
Spoon 1/2 cup salsa into 11 x 7 x 2-inch baking dish. Arrange tortillas seam side down; top with remaining 1 cup sauce.
Cover and bake in 350o degree oven for 15 to 20 minutes.
Uncover; top with cheese. Bake 2 minutes longer or until cheese is melted.
Source: Washington State WIC Program, The Bold and Beautiful Book of Bean Recipes
Nutrition Information
Serving Size: 1 enchilada (253g)
| Nutrients | Amount |
| --- | --- |
| Total Calories | 189 |
| Total Fat | 5 g |
| Saturated Fat | 2 g |
| Cholesterol | 6 mg |
| Sodium | 455 mg |
| Carbohydrates | 30 g |
| Dietary Fiber | 7 g |
| Total Sugars | 3 g |
| Added Sugars included | 0 g |
| Protein | 8 g |
| Vitamin D | 0 mcg |
| Calcium | 111 mg |
| Iron | 2 mg |
| Potassium | 396 mg |