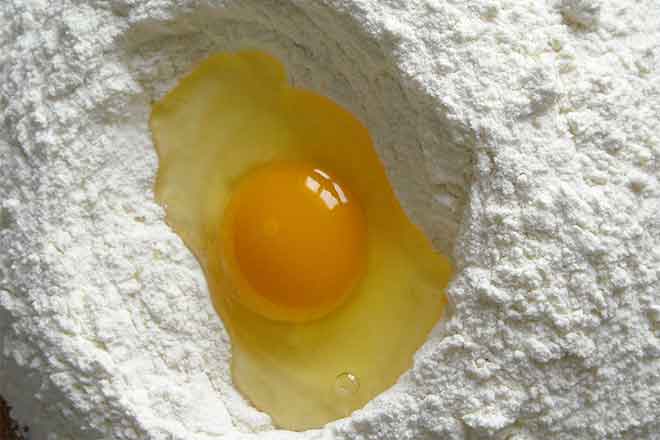 Published
Saturday, August 3, 2019
Makes: 6 Servings
Prep time: 20 minutes
Cook time: 20 minutes
Ingredients
3 cups penne pasta, whole-wheat, dry (12 oz)
1 teaspoon granulated garlic (1/2 tsp Garlic Powder)
2 cups fresh broccoli florets
1 cup cooked diced chicken, 1/2" pieces (4 oz)
1 1/2 cups fat-free half and half
1 tablespoon enriched all-purpose flour
1/8 cup low-sodium chicken broth
1 teaspoon salt
1/2 teaspoon ground black pepper
1/2 cup reduced-fat cheddar cheese, shredded (2 oz)
1/2 cup low-fat mozzarella cheese, low-moisture, part-skim, shredded (2 oz)
Directions
Preheat oven to 350 degF.
In a large pot, bring 2 quarts water to a boil. Gradually stir in pasta and return to a boil. Cook uncovered for 8-10 minutes or until tender. Do not overcook. Drain well. Toss pasta with 1/2 teaspoon garlic.
Fill a medium pot with water and bring to a boil. Add broccoli florets and cook for 5 minutes. Drain well. Sprinkle with remaining garlic.
Transfer pasta and broccoli to a medium casserole dish (about 8" x 11") coated with nonstick cooking spray. Add chicken. Mix well.
In a small mixing bowl, mix 1/2 cup half and half with flour. Whisk to remove lumps.
In a medium skillet, heat chicken broth, salt, pepper, and remaining half and half. Stir constantly. Stir in half and half/flour mixture. Stir constantly and bring to a boil.
Reduce heat to low. Stir frequently for 5 minutes. Sauce will thicken. Add cheese and stir until cheese melts. Remove from heat. Pour sauce over broccoli/pasta mixture.
Cover casserole dish with lid or with foil. Bake at 350 degF for 8 minutes. Heat to an internal temperature of 165 degF or higher for at least 15 seconds (use a food thermometer to check the internal temperature). Remove from oven. Serve hot.
Source: Recipes for Healthy Kids Cookbook for Homes
Nutrition Information
Nutrients Amount
Calories 300
Total Fat 6 g
Saturated Fat 2 g
Cholesterol 26 mg
Sodium 418 mg
Total Carbohydrate 44 g
Dietary Fiber 6 g
Total Sugars 5 g
Added Sugars included N/A
Protein 19 g
Vitamin D 26 IU
Calcium 231 mg
Iron 2 mg
Potassium 384 mg