Image
Cooking at Home - Homemade Ranch Dressing
Image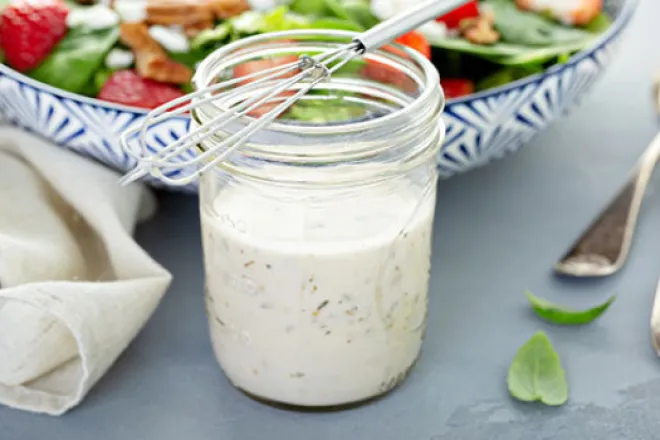 Makes: 16 Servings
Preparation Time:5 minutes
What's better than ranch dressing? Fresh, homemade ranch dressing! It's the perfect addition to your salad, veggies, or just about anything you can dip!
Ingredients
2 teaspoons dried, minced onions
1/2 teaspoon salt
1/8 teaspoon garlic powder
1 tablespoon dried parsley
1 cup Greek yogurt, plain, fat-free
1 cup buttermilk
Directions
Collect and measure all ingredients before starting to prepare the recipe.
Add the dried onion, salt, garlic powder, and dried parsley to a bowl, and stir gently to combine.
Add the Greek yogurt and buttermilk, and stir until spices are evenly distributed.
Chill before serving.
Keep leftovers refrigerated, and eat within 1 week.
Notes
Be creative! To make a thicker ranch dip, substitute another cup of plain Greek yogurt for the buttermilk.
Source: Eating Smart, Being Active, Colorado State University
Nutrition Information
Serving Size: 2 Tablespoons
| Nutrients | Amount |
| --- | --- |
| Total Calories | 20 |
| Total Fat | 1 g |
| Saturated Fat | 0 g |
| Cholesterol | 2 mg |
| Sodium | 96 mg |
| Carbohydrates | 2 g |
| Dietary Fiber | 0 g |
| Total Sugars | 1 g |
| Added Sugars included | 0 g |
| Protein | 2 g |
| Vitamin D | 0 mcg |
| Calcium | 37 mg |
| Iron | 0 mg |
| Potassium | 50 mg |