Image
Cooking at Home - New England Johnny Cake
Image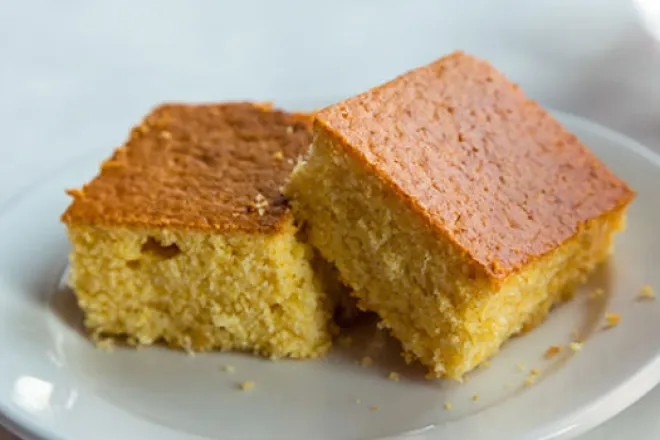 Makes: 24 servings
This Johnny Cake serves a crowd. Enjoy it with fresh or canned fruit.
Ingredients
2 egg (beaten)
3/4 cup sugar
2 cups flour
1 cup yellow cornmeal
1 tablespoon baking powder
3/4 teaspoon salt
cup vegetable oil
1 1/2 cups skim or reconstituted non-fat dry milk
1 teaspoon vegetable oil (or spray)
Directions
Preheat oven to 375 degrees.
Mix sugar with beaten eggs in small mixing bowl.
In the other bowl, mix flour, cornmeal, baking powder and salt together.
Add oil, egg mixture and milk to the flour mixture. Mix. Pour into a lightly oiled baking dish.
Bake at 375 degrees for 30 minutes.
Source: Eating Right Is Basic, Michigan State University Cooperative Extension Service, Nutrition Education Program
Nutrition Information
Serving Size: 2" square, 1/24 recipe (46g)
| Nutrients | Amount |
| --- | --- |
| Total Calories | 114 |
| Total Fat | 3 g |
| Saturated Fat | 1 g |
| Cholesterol | 16 mg |
| Sodium | 148 mg |
| Carbohydrates | 19 g |
| Dietary Fiber | 1 g |
| Total Sugars | 7 g |
| Added Sugars included | 6 g |
| Protein | 3 g |
| Vitamin D | 0 mcg |
| Calcium | 57 mg |
| Iron | 1 mg |
| Potassium | 56 mg |