Image
Cooking at Home - Quick and Easy Baked Potato Salad
Image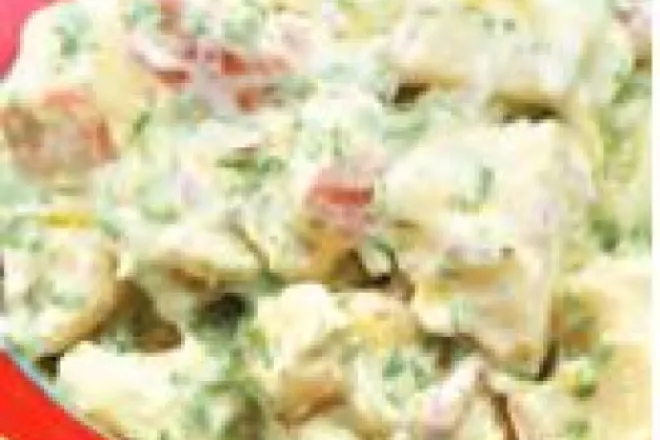 Makes: 4 Servings
Cook Time: 10 minutes
Preparation Time:15 minutes
If you love baked potatoes but associate them primarily with the colder winter months, this Baked Potato Salad will fill that void come summer. With reduced-fat cheddar cheese, chives, and real bacon, you'll feel like you're eating a traditional baked potato in a dish that's just slightly more summer picnic-friendly. The best part? There's no need to fire up the oven when you have a microwave handy! If requiring a gluten-free recipe, check the label of the indicated (*) recipe ingredients to ensure they are gluten-free.
Ingredients
1 1/2 pounds red potatoes
1 cup non-fat plain yogurt
1/3 cup minced onion
1/2 cup shredded reduced fat cheddar cheese
4 tablespoons snipped fresh chives
3 tablespoons real bacon bits or pieces
1/4 teaspoon salt
Freshly ground pepper to taste
chopped fresh parsley (optional)
Directions
Place whole potatoes (do not poke) into microwave-safe dish.
Cover dish. (If covering dish with plastic wrap, poke small hole in plastic).
Microwave on high for 10 to 12 minutes depending on strength of microwave.
Use oven mitts or a towel to remove dish from microwave; carefully remove cover from dish due to steam build up and let cool.
Cut potatoes into bite-sized pieces and place in a large bowel with remaining ingredients; stir and mix well.
Notes
This salad may be served right away, but is best if refrigerated for at least one hour to allow flavors to blend.
Source: Meeting Your MyPlate Goals on a Budget, MyPlate National Strategic Partners Toolkit
Nutrition Information
| Nutrients | Amount |
| --- | --- |
| Total Calories | 200 |
| Total Fat | 4 g |
| Saturated Fat | 2 g |
| Cholesterol | 13 mg |
| Sodium | 360 mg |
| Carbohydrates | 34 g |
| Dietary Fiber | 3 g |
| Total Sugars | 6 g |
| Added Sugars included | 0 g |
| Protein | 11 g |
| Vitamin D | 0 mcg |
| Calcium | 250 mg |
| Iron | 1 mg |
| Potassium | 1033 mg |