Image
Cooking at Home - Red Beans and Rice
Image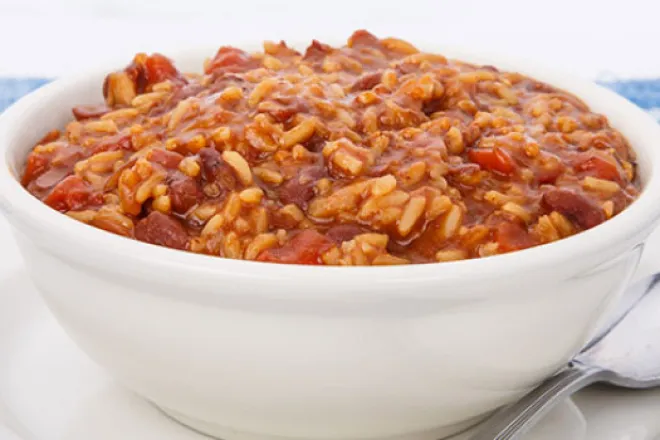 Makes: 8 servings
This flavorful dish is a Monday night tradition in many homes. This vegetarian recipe uses dry beans, onion, pepper, and spices.
Ingredients
2 cups red beans, dry
8 cups water
1 1/2 cups onion (chopped)
1 cup celery (chopped)
4 bay leaves
3 tablespoons garlic (chopped)
1 tablespoon parsley (optional)
2 teaspoons thyme (crushed, dried)
1 teaspoon salt
1 teaspoon black pepper
1 cup red bell pepper (chopped - could also use green pepper)
hot cooked rice
Directions
Pick through beans to remove bad beans. Rinse beans thoroughly.
In a 5-quart pot, mix beans, water, onion, celery and bay leaves. Bring to boiling; reduce heat.
Cover and cook over low heat for about 1-1/2 hours or until beans are tender. Stir and mash beans against side of pan.
Add garlic, parsley, thyme, salt, black pepper, and green pepper.
Cook uncovered, over low heat, until creamy, about 30 minutes. Remove bay leaves. Serve over hot cooked rice.
Source: Food and Drug Administration (FDA).
Nutrition Information
Serving Size: 1/8 of recipe (359g)
| Nutrients | Amount |
| --- | --- |
| Total Calories | 168 |
| Total Fat | 1 g |
| Saturated Fat | 0 g |
| Cholesterol | 0 mg |
| Sodium | 315 mg |
| Carbohydrates | 31 g |
| Dietary Fiber | 9 g |
| Total Sugars | 2 g |
| Added Sugars included | 0 g |
| Protein | 11 g |
| Vitamin D | 0 mcg |
| Calcium | 75 mg |
| Iron | 3 mg |
| Potassium | 594 mg |