Image
Cooking at Home - Spanish Baked Fish
Image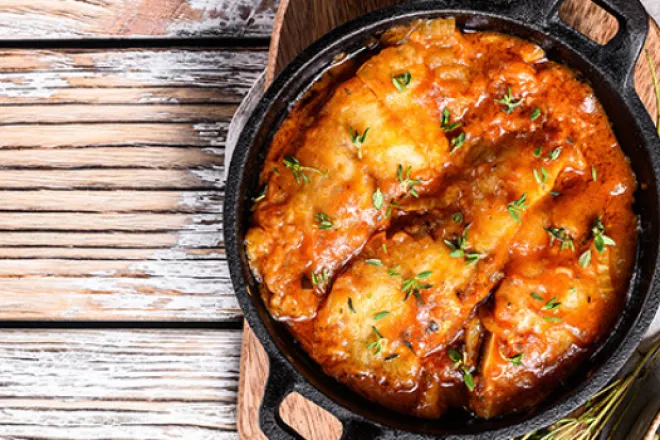 Makes: 4 servings
This delicious fish will pair well with spaghetti squash when in season, and whole wheat pasta or brown rice the rest of the year.
Ingredients
1 pound perch fillets, fresh or frozen
1 cup tomato sauce
1 onion (small)
1/2 teaspoon garlic powder
2 teaspoons chili powder
1 teaspoon oregano
1/8 teaspoon cumin (ground)
Directions
Preheat the oven to 350 degrees F.
Lightly grease the baking dish with butter or margarine.
Separate the fish into 4 fillets or pieces.
Put the fish pieces in the baking dish.
Peel the onion, and cut it into slices.
Stir the onion, tomato sauce and spices together in a small bowl.
Pour the onion-spice mix evenly over the fish pieces.
Bake about 10 to 20 minutes, until the fish flakes easily with a fork.
Source: Pennsylvania Nutrition Education Network
Nutrition Information
Serving Size: 3 oz. prepared fish, 1/4 of recipe (194g)
| Nutrients | Amount |
| --- | --- |
| Total Calories | 129 |
| Total Fat | 3 g |
| Saturated Fat | 0 g |
| Cholesterol | 58 mg |
| Sodium | 622 mg |
| Carbohydrates | 7 g |
| Dietary Fiber | 2 g |
| Total Sugars | 4 g |
| Added Sugars included | 0 g |
| Protein | 18 g |
| Vitamin D | 52 mcg |
| Calcium | 60 mg |
| Iron | 1 mg |
| Potassium | 459 mg |