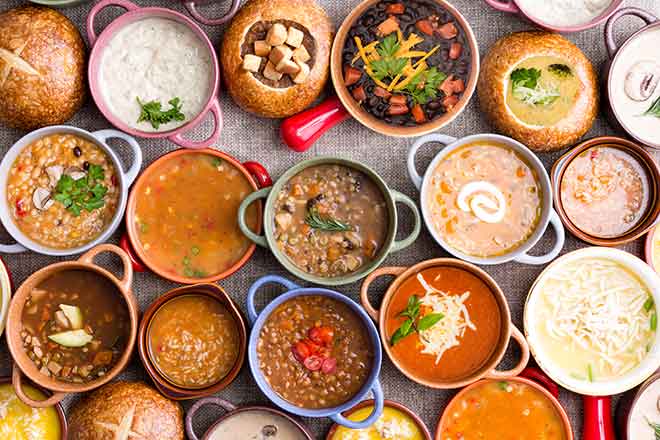 Published
Friday, November 15, 2019
This gravy uses chicken or turkey broth to create an easy and fast gravy. Perfect for a big holiday meal.
Ingredients
2 tablespoon margarine (or butter or turkey drippings)
3 tablespoon flour
1/4 teaspoon salt
1 1/2 cup chicken or turkey broth
1/2 ounce giblets (cooked and chopped, approximately 1/2 cup)
Directions
Melt margarine in skillet over low heat. Mix in flour and salt. Stir and heat until bubbly.
Add broth slowly, stirring constantly. Cook over low heat for 5-10 minutes.
Add the cooked giblets. Heat a few minutes to blend flavors.
Store leftovers in refrigerator within 2 hours.
Source: Oregon State University Cooperative Extension Service, Pictorial Recipes
Lynn Myers Steele, 2000
Oregon Family Nutrition Program
Nutrition Information
Serving Size: 1/6 of recipe (72g)
| Nutrients | Amount |
| --- | --- |
| Calories | 61 |
| Total Fat | N/A |
| Saturated Fat | 1 g |
| Cholesterol | 25 mg |
| Sodium | 347 mg |
| Total Carbohydrate | 3 g |
| Dietary Fiber | 0 g |
| Total Sugars | 0 g |
| Added Sugars included | 0 g |
| Protein | 3 g |
| Vitamin D | 0 mcg |
| Calcium | 5 mg |
| Iron | 1 mg |
| Potassium | 64 mg |
N/A - data is not available