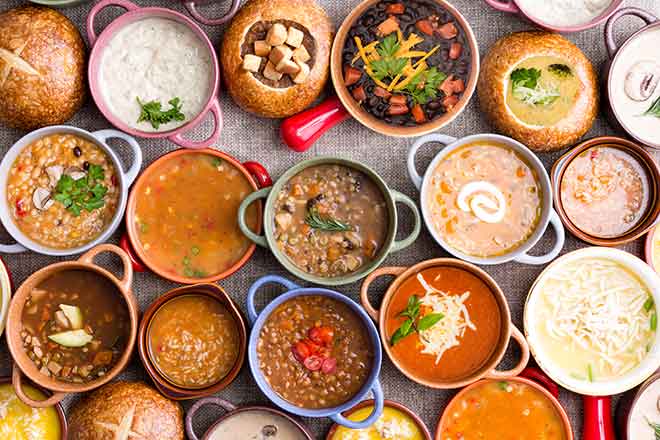 Published
Saturday, October 26, 2019
Swiss cheese, vegetables, and curry powder make this thick and creamy soup a filling meal on a cold night this winter. Serve with whole wheat toast on the side.
Ingredients
1 cup water
3 cup mixed vegetables, frozen or fresh (chopped, no salt or fat added)
1/4 cup onion (chopped)
1 teaspoon salt
1/2 curry powder (1/2 teaspoon, optional)
1 cup dry milk, non-fat
1 cup water
1 1/2 tablespoon cornstarch
1/2 cup Swiss cheese (cut into small pieces)
Directions
Bring 2 cups water to a boil. Add vegetables, onions, salt and curry powder. Cook, covered, until almost tender.
Mix dry milk, 1 cup water and cornstarch together. Add to partially cooked vegetables.
Cook over medium heat, stirring often, until thickened.
Add cheese and stir until melted. Add more water if too thick.
Source: University of Nebraska, Cooperative Extension, Recipe Collection, p.96
Staff from the University of Nebraska-Lincoln
Nutrition Information
Serving Size: 1/4 of recipe (322g)
| Nutrients | Amount |
| --- | --- |
| Calories | 54 |
| Total Fat | N/A |
| Saturated Fat | 1 g |
| Cholesterol | 4 mg |
| Sodium | 185 mg |
| Total Carbohydrate | 8 g |
| Dietary Fiber | 2 g |
| Total Sugars | 3 g |
| Added Sugars included | 0 g |
| Protein | 3 g |
| Vitamin D | 0 mcg |
| Calcium | 90 mg |
| Iron | 0 mg |
| Potassium | 136 mg |
N/A - data is not available