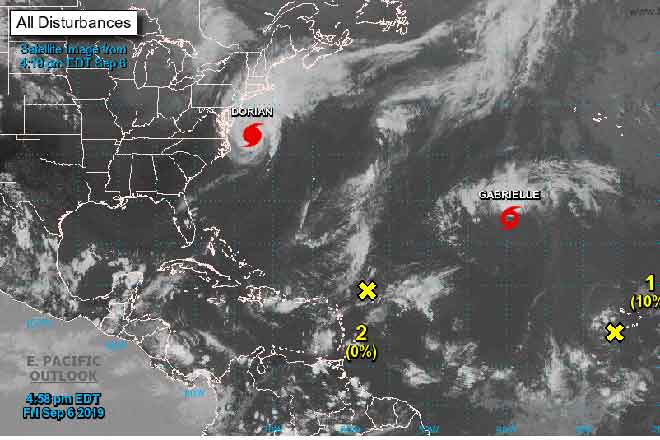 Published
Friday, September 6, 2019
By John Haughey | The Center Square
Hurricane Dorian spared Florida's Atlantic coast from the 40-hours of devastation it unleashed as a record-setting Category 5 on the northern Bahamas, spiraling north-by-northeast away from its shores Wednesday.
But as the Category 2 hurricane lashed the Georgia and then the Carolinas' coast, the National Hurricane Center (NHC) reported it was gaining in size, strength and speed with sustained winds up to 110 mph.
About 115,000 people were without power Thursday morning as Dorian continued its northerly ascent up the East Coast.
Dorian is expected to bring "destructive winds, flooding rains, and life-threatening storm surges" to the Carolinas and, perhaps, the Virginia Tidewater area and the Delmarva Peninsula on Chesapeake Bay.
"Dorian is expected to maintain its current intensity through Thursday, before a slow weakening trend begins," the NHC said, noting before that occurs "it is possible that Dorian could briefly regain major [Category 3] hurricane strength."
Central and north Florida's Atlantic coasts endured tropical storm force winds Tuesday into Wednesday of sustained 40-to-60 mph winds. Parts of northeast Florida were doused with up to 6 inches of rain.
Storm surges of 3-to-5 feet were reported in St. Augustine and Vilano Beach in St. Johns County and in Volusia County.
Florida Power & Light said up to 70,000 customers suffered outages that had been restored by Thursday.
While Florida may have dodged a bullet with Dorian, a tropical depression in the eastern Atlantic strengthened to Tropical Storm Gabrielle Tuesday night -- one of several emerging storms starting to pop up as hurricane season heats up.
Newly formed Gabrielle is forecast to drift west across the tropical Atlantic this week and, according to the NHC,could become the next hurricane in the Atlantic Basin.
It does not, as yet, have a projected track.
"While Florida was fortunate that Hurricane Dorian stayed off our coast, we are still in peak hurricane season and we must remain focused to make sure the state is prepared to respond to any storm," Florida Department of Emergency Management Jared Moskowitz said Wednesday in a statement. "I urge every resident to be prepared and continue to take every storm seriously."
In early August, the NOAA's Climate Prediction Center increased the likelihood of an above-normal Atlantic hurricane season to 45 percent, up from 30 percent from its May outlook.
NOAA also increased the number of predicted storms in its August update.
In May, it projected nine to 15 named storms , those with winds of 39 mph or higher, with four to eight becoming hurricanes and two to four of them developing into major hurricanes of Category 3 or higher.
In August, NOAA said it now expects 10-17 named storms with five to nine becoming hurricanes and two to four being major hurricanes.
On average, the Atlantic hurricane season produces 12 named storms, of which six become hurricanes, including three major hurricanes, according to NOAA.
Dorian matched Florida's 1935 Labor Day hurricane as the second-strongest storm in terms of maximum sustained winds ever recorded in the Atlantic Ocean, behind only Hurricane Allen of 1980. Its landfall in the northern Bahamas was the strongest Atlantic hurricane to make a landfall.
Dorian's peak Category 5 strength marked the first time since the satellite tracking era in the 1960 that Category 5 storms have developed in the Atlantic for four straight years.
Florida will orchestrate an assistance effort to aid the Bahamas in the coming days, Gov. Ron DeSantis said, but on Wednesday he was focused on thanking federal, state, county, local and emergency management officials for their efforts in getting the state ready for the storm.
"Florida is blessed to have some of the best emergency management officials and first responders in the nation and I could not be prouder to lead such a talented and selfless team of public servants," he said. "In coordination with our local and federal partners, Florida stands ready to respond to any emergency as we move forward this hurricane season."