Image
Drought expansion resumes in Colorado
Drought expansion resumed in west central and southeast Colorado this week according the latest report from the National Drought Mitigation Center.
Extreme drought increased to the south and now encompasses most of Baca County. Temperatures across the eastern plains have been 3-12 degrees warmer than normal for this time of year in the area.
Image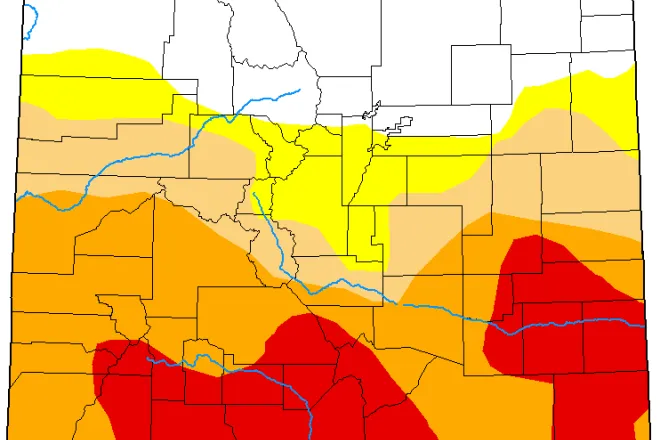 In western Colorado, severe drought expanded to cover the remainder of Dolores, San Miguel and Montrose counties, along with the southern three-quarters of Mesa County.
Some improvement was noted in the central mountains as moderate drought shifted to abnormally dry conditions for all of Teller and Jefferson counties, and portions of Fremont, Park, Douglas and El Paso counties.
Image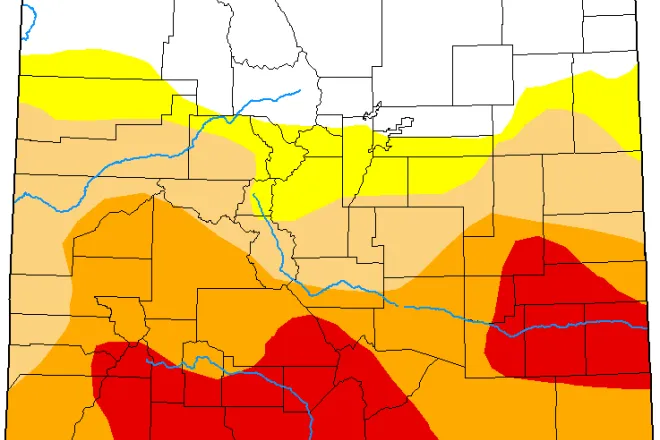 Overall, 23 percent of the state remains drought-free, unchanged from the prior week. Abnormally dry areas increased from 12 to 13 percent, while moderate drought decreased from 21 to 16 percent. Severe drought moved from 26 to 28 percent, while extreme conditions were up one percent to 19.
Nearly 1.4 million people in Colorado are in drought-impacted areas.
One year ago, Colorado was free from abnormally dry conditions and all levels of drought for the first time since tracking began in 2000.
Drought classes include (ranked from least to most severe) D0 - abnormally dry, D1 - moderate, D2 - severe, D3 - extreme, and D4 - exceptional drought.
Colorado Drought by the Numbers

Week

Date

None

D0

D1

D2

D3

D4

Current

6/2/20

23

13

16

28

19

0

Last Week

5/26/20

23

12

21

26

18

0

3 Months Ago

3/3/20

30

25

42

3

0

0

Start of Calendar Year

12/31/19

32

17

31

20

0

0

Start of Water Year

10/1/19

30

42

28

0

0

0

One Year Ago

6/4/19

100

0

0

0

0

0