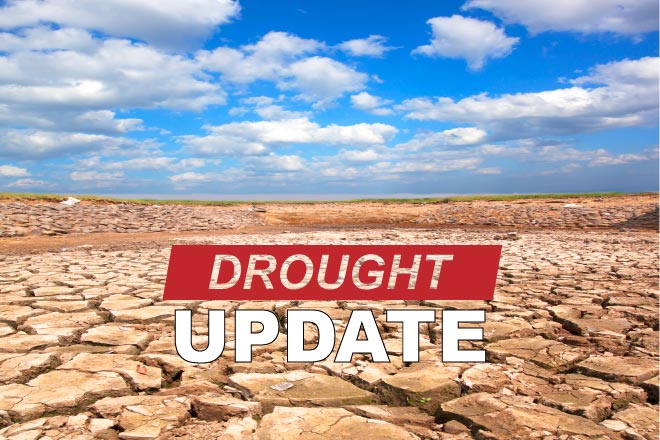 Published
Friday, October 5, 2018
Despite rain in western Colorado this week, half of the state remains in the two worst drought categories. Most of the southwest quarter of the state is in exceptional drought, with much of the remainder of western Colorado in extreme conditions. Neighboring portions of Utah, Arizona and New Mexico are experiencing similar drought issues and, collectively, are under worst drought impacts in the United States.
Remnants of Hurricane Rosa streamed into southwest Colorado Monday and Tuesday, with rain continuing across the west into Wednesday and Thursday. Benefits of the week's moisture may show up during the next reporting period. Additional rain - and some snow at higher elevations - is expected starting midday Saturday. Snow levels could drop as low as 8,500 feet by Sunday.
Weekend temperatures are predicted to drop to 50s and 60s for daily highs at lower elevations, welcome relief from highs in the 80s and 90s just a few week ago.
Overall, 14 percent of the state is drought-free, with an additional 14 percent showing as abnormally dry. Eight percent of Colorado is in moderate drought, while 16 percent is in the severe category. Extreme drought currently covers 32 percent of the state. Sixteen percent is experiencing exceptional drought. An estimated 1.5 million people in Colorado live in drought impact areas.
On year ago, 71 percent of Colorado was drought-free, while 26 percent was abnormally dry. Four percent of the state was experiencing moderate drought conditions.
Drought categories include (ranked from least to most severe) abnormally dry, moderate, severe, extreme and exceptional drought.
Colorado Drought by the Numbers

Week

Date

None

D0

D1

D2

D3

D4

Current

10/2/18

14

14

8

16

32

16

Last Week

9/25/18

14

14

8

16

32

16

3 Months Ago

7/3/18

20

12

15

16

28

9

Start of Calendar Year

12/26/17

7

65

28

0

0

0

Start of Water Year

9/25/18

14

14

8

16

32

16

One Year Ago

10/3/17

71

26

4

0

0

0