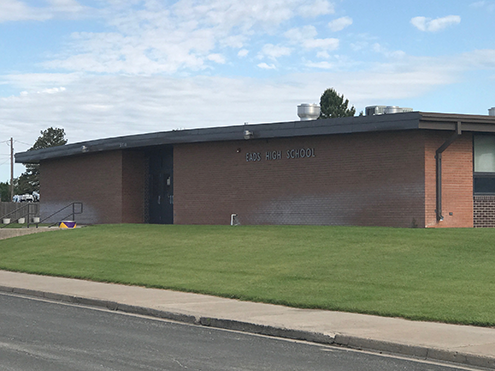 Published
Saturday, August 12, 2017
The All School Reunion is just around the corner and plans are being confirmed and things are set for Saturday, September 9, 2017. This is a special year as it is the 100th year since the 1st graduation class of 1917 graduated from Eads High School.
After the parade on Saturday, registration will begin at the Eads High School in the multi-purpose room. You have all day to register. All that we ask is you register by 5:30 P.M. There will be an order form at the registration table for t-shirts in conjunction of the 100th year celebration. The doors will close at 6:00. The catering will be by Troy's Bar-Be-Que from Woodrow, Colorado. The meal will consist of Smoked Beef, Green Beans, Tossed Salad, Baked Potato, dinner roll & dessert.
After dinner the program will begin. Kas Fischer Stewart, a 1965 graduate, will be our MC for the evening.
After the short program you can stay around and visit or head on down to the end of Maine Street to the dance and beer garden.
Again as in the past, we will not limit the festivities only to Eads graduates. Anyone who attended Eads, current or past teachers, current or past residents of the community are invited to attend the banquet. The deadline for the banquet is September 1, 2017.
Just a reminder, there will be no one allowed in the gym without a name tag, before and or during the banquet.
If you have questions, please contact Nancy Walker, Marty Miller, Verna Ebright or Kim Richards