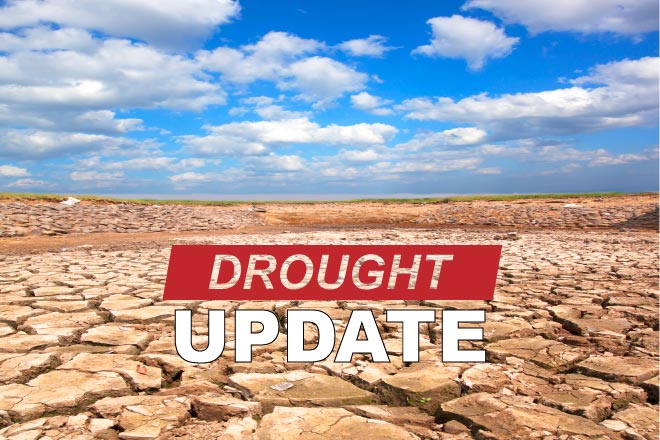 Published
Friday, July 3, 2020
Exceptional drought - the worst category - reentered Colorado for the first time since February of last year according to the latest report from the National Drought Mitigation Center.
About half of Baca County, long with a portion of southwest Prowers County, are now in exceptional drought conditions. Above average temperatures and low humidity, along with wind and minimal rain contributed to the ongoing degradation in the southeast portion of the state.
Extreme conditions expanded in southwest Colorado, taking in western Ouray County, central Montrose County, and an increased part of eastern San Miguel County.
Southern and eastern Weld County, along with the remainder of northeast Morgan County, moved into abnormally dry conditions.
The U.S. Monthly Drought Outlook from the Climate Prediction Center calls for drought to persist through July. Through September, drought is expected to expand further in northwest and central Colorado.
Overall, one percent of the state is now in exceptional drought, while extreme conditions held steady at 33 percent. Severe drought dropped one point to 22 percent versus the prior week. Moderate drought was unchanged at 12 percent while abnormally dry conditions were up one percent to 16. The drought-free area of Colorado fell one percent to 16.
Governor Jared Polis activated Colorado's Drought Task Force and Phase 2 of the State Drought Mitigation and Response Plan last week as drought conditions deepen. All or portions of 40 of the states 64 counties are experiencing severe, extreme or excpetional drought. Phase 2 activates the Agricultural Impact Task Force, which will conduct an initial assessment on physical and economic impacts and recommend opportunities for mitigation.
Just under 1.5 million people in Colorado live in drought-impacted parts of the state.
More than two-thirds of the state is experiencing moderate drought or worse. One year ago, Colorado was free from abnormally dry conditions and all levels of drought for the first time since tracking began in 2000.
Drought classes include (ranked from least to most severe) D0 - abnormally dry, D1 - moderate, D2 - severe, D3 - extreme, and D4 - exceptional drought.
Colorado Drought by the Numbers

Week

Date

None

D0

D1

D2

D3

D4

Current

6/30/20

16

16

12

22

33

1

Last Week

6/23/20

17

15

12

23

33

0

3 Months Ago

3/31/20

32

20

44

3

0

0

Start of Calendar Year

12/31/19

32

17

31

20

0

0

Start of Water Year

10/1/19

30

42

28

0

0

0

One Year Ago

7/2/19

100

0

0

0

0

0