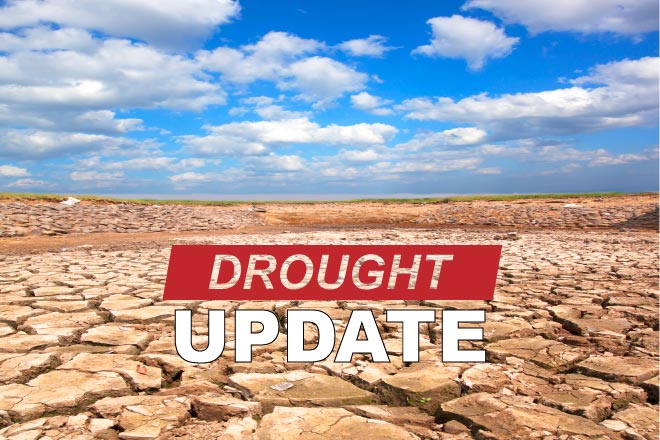 Published
Saturday, August 1, 2020
Recent rains from a plume of monsoon moisture have led to drought improvements across southern Colorado according to the latest report from the National Drought Mitigation Center.
Extreme drought - the second worst category - receded in Montezuma and Dolore counties. Extreme conditions also fully retreated from Otero County, and nearly disappeared from Bent and Prowers counties. Northern and eastern Baca County also saw improvements extreme drought. In each of the areas, severe drought replaced extreme conditions.
Northwest Colorado saw moderate drought overtake abnormally dry conditions in northern Moffat County, along with all of Routt and Jackson and most of Grand and Summit counties. The remainder of Eagle County also moved from abnormally dry to moderate drought, as did northwest Larimer County.
In northeast Colorado, severe drought reached northeast Logan and northwest Sedgwick counties, while slipping back to moderate drought elsewhere in the two counties. Severe conditions all but disappeared from Phillips County and much of eastern Yuma County. Northeast Cheyenne County in east central Colorado moved from severe conditions to moderate drought.
This week's crop progress and condition report noted that non-irrigated crop and pasture areas continued to decline in the face of drought, with some spring crops about to fail without rain.
A drought-free area in Larimer, Weld, Boulder, Broomfield, Jefferson and Gilpin counties turned abnormally dry, while northeast Weld County became drought-free.
Many of the improved areas saw an inch or more of rain over the past week. In some cases, heavy rains caused flash flooding. Despite the improvements, the U.S. Monthly Drought Outlook for August paints a grim picture for the state. Existing drought is expected to persist across Colorado, while remaining abnormally dry areas are predicted to move into drought conditions over the course of the month. Drought improvements are not forecast anywhere in Colorado. Above-normal temperatures are also expected throughout August.
Overall, just one percent of Colorado is drought-free, down from 3 percent last week. Abnormally dry conditions cover 16 percent of the state compared to 23 percent in the previous report. Moderate drought moved up 11 percent to 25, while severe drought also increased three percent to 32. Extreme drought shrank to 27 percent from 32 percent.
Moderate to extreme drought conditions cover 84 percent of the state. The total exceeds 100 percent due to rounding.
Nearly 3.6 million people in Colorado live in drought-impacted parts of the state.
One year ago, Colorado had just completed an eight-week span where the state was free from all levels of drought for the first time since tracking began in 2000. Abnormally dry conditions had just appeared in the state, covering five percent of the area.
Drought classes include (ranked from least to most severe) D0 - abnormally dry, D1 - moderate, D2 - severe, D3 - extreme, and D4 - exceptional drought.
Colorado Drought by the Numbers

Week

Date

None

D0

D1

D2

D3

D4

Current

7/28/20

1

16

25

32

27

0

Last Week

7/21/20

3

23

14

29

32

0

3 Months Ago

4/28/20

24

19

24

33

0

0

Start of Calendar Year

12/31/19

32

17

31

20

0

0

Start of Water Year

10/1/19

30

42

28

0

0

0

One Year Ago

7/30/19

95

5

0

0

0

0