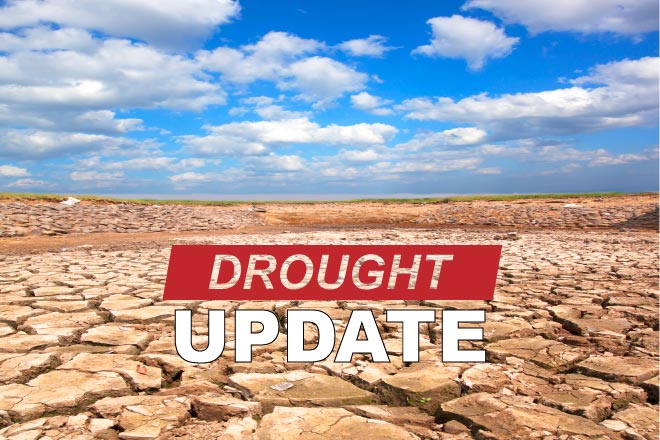 Published
Friday, December 7, 2018
An area of exceptional drought - the worst category - receded from the south central mountains, while extreme conditions pulled back in northwest Colorado counties and snowpack improved.
A patch of exceptional drought disappeared from parts of Fremont, Huerfano, Costilla, Alamosa and Saguache counties, where it had been firmly entrenched for months. An area of exceptional conditions remained in southwest Costilla County.
Exceptional drought also withdrew from western Mesa County and a large swath of Delta County. Northern and western Montrose county saw a similar improvement.
Large portions of Moffat, Rio Blanco and Garfield counties saw extreme drought drop to the severe category this week. Extreme conditions also retreated from Routt and Eagle counties, as well as parts of Pitkin and Mesa counties.
Conditions were largely unchanged across the eastern half of the state.
Across Colorado, many of the river basins were well above the median for snow water equivalent for this time of year. The major exceptions were the San Miguel, Delores, Animas and San Juan Basin, and the Upper Rio Grande Basin, which were at 77 and 85 percent of the median, respectively. The Gunnison Basin stood at 106 percent, while basins across the rest of the state ranged from 127 to 147 percent. State-wide, snow water equivalent stood at 118 percent of the median as of December 6.
Snow water equivalent measures the amount of water within the snowpack based on the snow's density. Five feet of snow with a density of 20 percent would be expected produce 12 inches of water when it melts. Snow density varies based a number of factors, including air temperature when the snow falls, and settling over time.
Overall, drought-free and abnormally dry conditions each impacted 17 percent of Colorado, unchanged from the prior week. Moderate drought, also unchanged, stood at 11 percent. Severe drought jumped to 28 percent from 21 as conditions improved in the upper categories. Extreme drought dropped from 20 percent to 16, while exceptional drought improved from 13 to 11 percent of the state.
Drought categories include (ranked from least to most severe) abnormally dry, moderate, severe, extreme and exceptional drought.
Colorado Drought by the Numbers

Week

Date

None

D0

D1

D2

D3

D4

Current

12/4/18

17

17

11

28

16

11

Last Week

11/27/18

17

17

11

21

20

13

3 Months Ago

9/4/18

20

9

7

20

35

10

Start of Calendar Year

12/26/17

7

65

28

0

0

0

Start of Water Year

9/25/18

14

14

8

16

32

16

One Year Ago

12/5/17

67

17

16

0

0

0