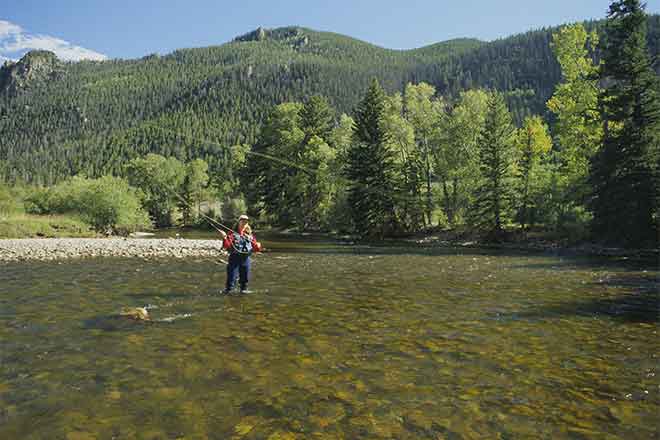 Published
Wednesday, September 19, 2018
The South Fork of the Rio Grande River provides some of the best fishing opportunities in Colorado. With nearly 20 miles of award-winning Gold Medal Waters, the South Fork boasts a world-class aquatic habitat for fishermen of all ages and skillsets to enjoy. Fish for trout of all sizes, from small brook trout to trophy-sized rainbows. When enjoying the South Fork's fishing opportunities, however, note that anyone 16 years of age or older must have a valid fishing license.
Fishing on the South Fork in Colorado is a unique experience. In almost any location along the banks, you'll notice that you're surrounded by plentiful wildlife and spectacular landscapes. The weather is also a fascinating phenomenon in this region. For example, during the summer, midday thunderstorms make for morning or evening fishing excursions the best choices. This doesn't have to be a downer--after all, who doesn't enjoy watching the sunrise or sunset while fishing? While it's immersed in nature, the South Fork of the Rio Grande is also relatively close to civilization. In some places it's even possible to get a bite to eat in a nearby townand be back out in the wilderness an hour or so later.
The South Fork is also full of diversity in terms of fish, river segments, and fishing opportunities. There are many slow-moving streams and creeks, as well as 80+ lakes and reservoirs to choose from. Certain parts of the river feature shallower, faster waters, while others consist of calmer, deeper segments. Wherever you're fishing on the South Fork in Colorado, you'll undoubtedly discover brook, rainbow, and brown trout as well as cutthroats.
Fishing on the South Fork of the Rio Grande is possible year-round. In the spring through fall, enjoy fly fishing, bank fishing, wading, and float fishing. In the winter, some lakes offer excellent ice fishing opportunities. Whether you're interested in fishing for the day or for an entire weekend, you won't be disappointed with these Gold Medal Waters.