Image
Here's how prosecutors will try to prove Trump knowingly lied and intended to break the law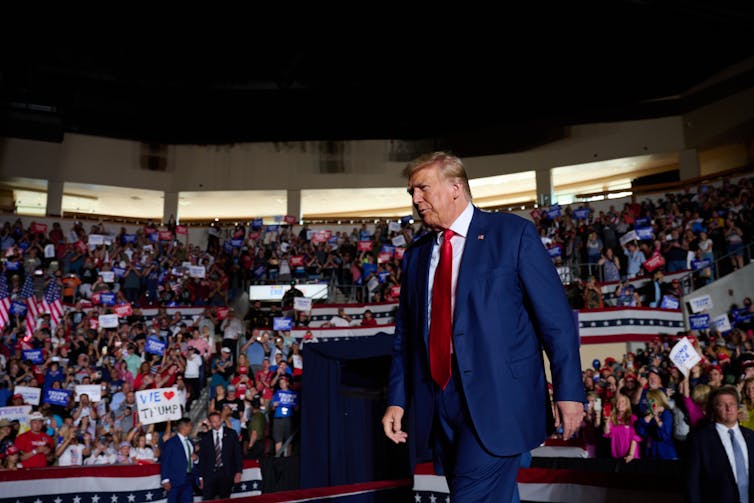 Ronald S. Sullivan Jr., Harvard University
What was Donald Trump thinking when he set about trying to maintain the presidency after losing it to Joe Biden?
That's the key question a jury will need to consider in Trump's federal trial on charges announced Aug. 1, 2023, stemming from Trump's attempts to overthrow the results of the 2020 presidential election.
The latest indictment charges Trump with conspiring to defraud the United States; to obstruct an official government proceeding; and to deprive U.S. citizens of a civil right – namely, to have their vote count.
In a fourth count, Trump is charged with obstructing, or attempting to obstruct, an official proceeding of Congress.
As a criminal law scholar, it's my belief that the key to a conviction or acquittal on these counts will be what jurors believe to be Trump's state of mind at the time of these alleged events.
Criminal intent
U.S. criminal law requires that the accused not just engage in an act, but to engage in that act with a guilty mindset. In other words, it is not enough to do something; the accused has to intend to do the thing to merit this charge.
In some statutes, criminal negligence is enough to convict someone of a crime. This means that the person grossly violated some duty of care, even though it may have been unintentional.
At the other end of the spectrum, some statutes require specific intent as the requisite state of mind for someone to be convicted. Specific intent means that the accused intended to cause the particular result that ensued.
With respect to the allegations lodged against Trump, the government must prove that Trump knowingly lied and intended to break the law.
The last count – obstruction of a proceeding of Congress – requires the government to prove corrupt intent, which means the actor intended to do something, and his motivation to do it was unlawful.
In short, the government must prove that Trump intended to obstruct the certification of the Electoral College vote for the purpose of overturning what he knew to be a lawful election.
Consciousness of guilt
The next logical question is how does one determine intent?
It's impossible to look into someone's mind to figure out their intent. As a result, the law deploys several tools that allow jurors to infer the intent of an accused, largely from his actions.
Consciousness of guilt is the leading tool.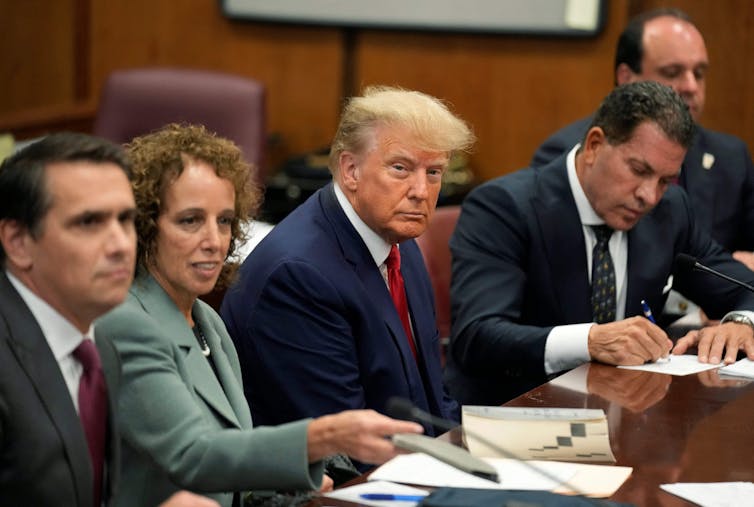 Let's say a person is accused of homicide, a charge which requires a specific intent to kill. The defense is that the death was the result of an accident.
The government is allowed to present evidence that shows the accused hid the body, disposed of the gun and tried to create a false alibi. None of these actions are consistent with an accident. Instead, the accused's actions demonstrate a consciousness of guilt, which allows the jury to infer intent.
Another example may be an accountant who comes into the office at midnight and logs on to a co-worker's account to change the ledger of a client. Those actions are not consistent with an innocent accounting error; they demonstrate a consciousness of guilt.
Trump's actions
The same principle holds with the Trump election case as well as the other federal indictment in which Trump is accused of taking classified documents to his Mar-a-Lago home in Florida in violation of federal law.
In late July 2023, for instance, Special Counsel Jack Smith added new charges to the original indictment and alleged that Trump directed two of his employees to delete security camera footage of storage boxes containing classified documents being moved before federal investigators arrived.
That behavior may be used as evidence of Trump's consciousness of guilt and proof of his intent to commit a crime.
In another example, Trump had a conversation in July 2021 at his summer home in Bedminster, N.J., in which he talked about a military document concerning Iran.
In that conversation, which was recorded, Trump said: "As president, I could have declassified it. Now I can't, you know, but this is still secret."
As the country contemplates these indictments, it's important to remember that federal prosecutors will dissect everything Trump did, said or heard to argue that his behavior indicates that he intended to commit the crimes for which he is charged.

Ronald S. Sullivan Jr., Professor of Law, Harvard University
This article is republished from The Conversation under a Creative Commons license. Read the original article.