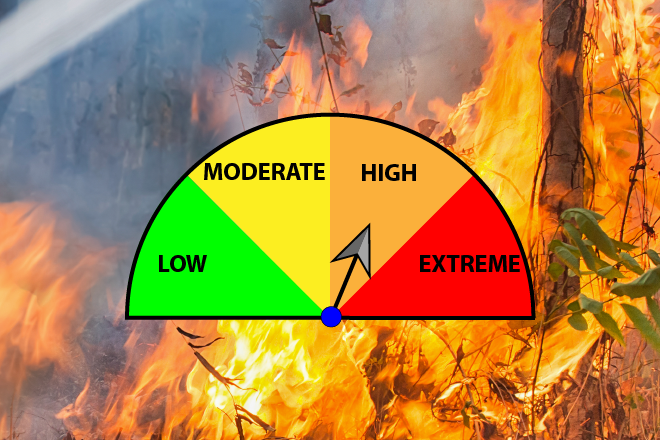 Published
Saturday, June 13, 2020
After a few cooler days, temperatures across eastern Colorado and parts of the western slope are soaring into the 90s, reviving the risk for fires.
A red flag warning for high fire danger will be in effect for southeast and east central counties from 11:00 a.m. to 8:00 p.m. Saturday. Temperatures in the upper 90s, along with southwest wind gusting to 35 miles per hour and relative humidity dropping to near 10 percent, is expected to create conditions favorable to rapid fire growth and spread.
The warning covers eastern Las Animas County, along with Baca, Prowers, Bent, Otero, Kiowa, Crowley, Cheyenne and Kit Carson counties.
Saturday also includes a risk for strong thunderstorms in mountain areas. Storms could produce wind gusts up to 60 mph, along with locally heavy rain and small hail. Flash flooding is possible if storms form over recent burn scars. The eastern plains are expected to remain dry.
In western Colorado, a red flag warning will be in effect from noon until 10:00 p.m. Saturday. South winds with gusts to 45 mph are expected, with temperatures in the 80s and 90s. Relative humidity could fall into the single digits.
The warning will be in effect for all Colorado counties along the Colorado-Utah border, and extends into the central mountains.
The fire risk continues Sunday, with red flag warnings from noon to 8:00 p.m. returning to the eastern counties impacted Saturday, and adding all or parts of Lake, Chafee, Fremont, Huerfano, Pueblo and El Paso counties. Wind gusts up to 50 mph are predicted, along with temperatures returning to the 90s on the eastern plains, and 70s to 80s for mountain areas. In addition, a fire weather watch for Sunday includes all or portions of Elbert, Lincoln, Cheyenne, Kit Carson and Yuma counties.
On the western slope, Sunday's red flag warning will also be in effect from noon to 8:00 p.m. as wind gusts to 35 mph and relative humidity falls. A fire weather watch is in effect for Monday afternoon for western counties.