Image
High fire danger returns to southeast Colorado for Tuesday, Thursday
The National Weather Service has issued a red flag warning for high fire danger in southeast Colorado Tuesday, followed by a fire weather watch for Thursday.
Tuesday's warning is expected to be in effect from 1:00 to 7:00 p.m. as winds reach 30 miles per hour and relative humidity drops below 10 percent. Temperatures will generally be in the 50s.
Image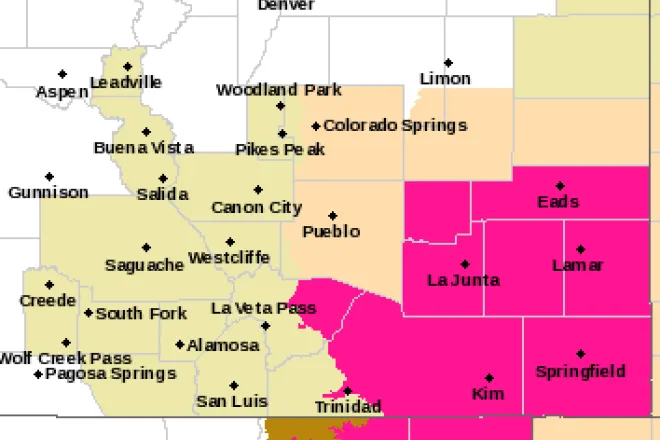 Counties in the warned area include Kiowa, Prowers, Baca, Las Animas, Huerfano, Bent, Otero and Crowley. The warning also extends into northern New Mexico.
Thursday's conditions are predicted to be more dangerous as wind gusts reach as high as 60 mph and temperatures move into the 70s.
In addition to Tuesday's counties under a warning, Thursday's watch – which is likely to become a warning – adds El Paso, Pueblo, and Cheyenne counties, along with portions of New Mexico and Oklahoma. While Wednesday is not currently under a watch or warning, any fire activity Wednesday, including controlled burns, could be rekindled Thursday and spread rapidly.
Image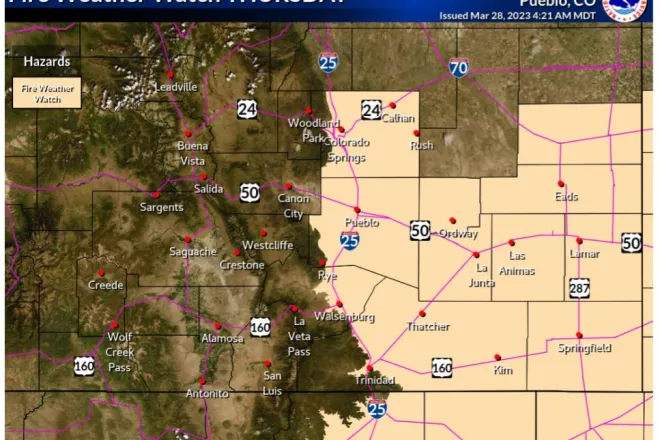 The NWS encourages avoiding any activities which could spark a fire, which could grow and spread rapidly.
A red flag warning means that critical fire weather conditions are either occurring now, or will shortly. A combination of strong winds, low relative humidity, and warm temperatures can contribute to extreme fire behavior.
A fire weather watch means that critical fire weather conditions are forecast to occur. Listen for later forecasts and possible Red Flag Warnings.