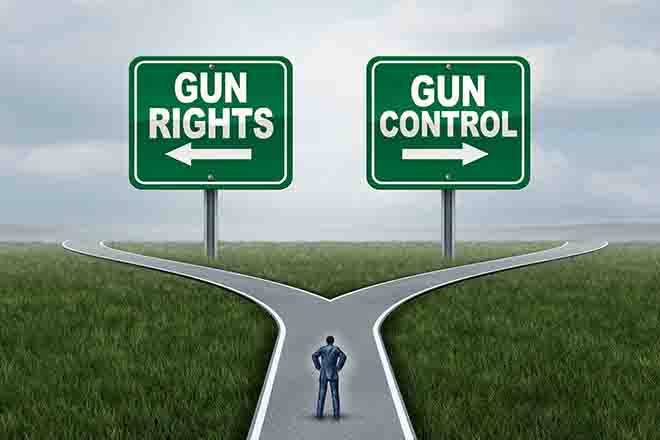 Published
Friday, August 11, 2023
(The Center Square) - Illinois' gun and magazine ban remains in place after being upheld by a split Illinois Supreme Court.
The anticipated ruling in the case brought by state Rep. Dan Caulkins, R-Decatur, was released Friday.
"First, we hold that the exemptions neither deny equal protection nor constitute special legislation because plaintiffs have not sufficiently alleged that they are similarly situated to and treated differently from the exempt classes," the majority opinion said. "Second, plaintiffs expressly waived in the circuit court any independent claim that the restrictions impermissibly infringe the second amendment. Third, plaintiffs' failure to cross-appeal is a jurisdictional bar to renewing their three-readings claim. Accordingly, we reverse the circuit court and enter judgment for defendants on the equal protection and special legislation claims. We express no opinion on the potential viability of plaintiffs' waived claim concerning the second amendment."
The majority opinion was delivered by Justice Elizabeth Rochford and concurred by Chief Justice May Jane Theis and Justices P. Scott Neville and Joy Cunningham.
Aside from Second Amendment challenges alleging the law violates the right to keep and bear arms, another issue stems from the carve out of employees in law enforcement and security sectors, who are exempt from the law. Plaintiffs say not requiring that class to comply with the ban violates equal protections.
Temporary restraining orders for thousands of individuals and gun stores secured from different state-level lawsuits are void now that the Illinois Supreme Court court upheld the law.
Not all the seven justices agreed.
"This great nation was founded on the premise that the right of law-abiding citizens to bear arms is essential to what it means to be a free people," the minority opinion said. "The right of law-abiding citizens to possess firearms and to arm themselves to protect their families, their homes, and themselves must not be infringed."
The minority opinion was delivered by Justice Lisa Holder White and concurred with by Justices David Oversteet and Mary O'Brien.
Gov. J.B. Pritzker enacted the Protect Illinois Communities Act on Jan. 10 this year. The law bans sales of certain semi-automatic firearms and magazines over a certain capacity. An affidavit of such firearms owned before then must be registered with Illinois State Police by Jan. 1, 2024, or criminal penalties can apply.
Sheriffs across the state had vowed to not enforce the law.
Separate challenges consolidated in the Seventh Circuit U.S. Court of Appeals are pending. A three-judge panel heard that case in Chicago in late June. It's unclear when that ruling will be released. Either way that case goes, it's expected to go to the U.S. Supreme Court.
"You just don't know what's going to happen in the federal courts and as of late the appointees to the ... U.S. Supreme Court are people who unfortunately want to take away the rights of parade goers and people who live in our neighborhoods to live safely and to not have assault weapons that are attacking their local communities," Pritzker said Thursday.
Last month, Pritzker gave a less than 50/50 chance the ban survives federal court challenges.