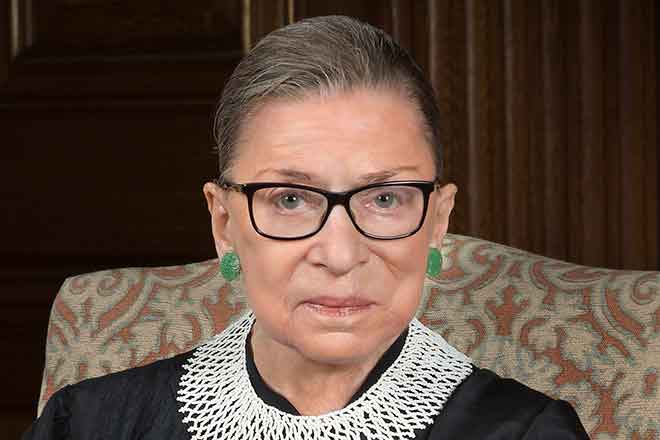 Published
Friday, September 18, 2020
United States Supreme Court Justice Ruth Bader died Friday from complications from cancer. She was 87.
Justice Ginsburg, the second woman to serve on the Supreme Court, was nominated for the position by President Bill Clinton, and had served on the court since 1993. Prior to that time, she had served on the United States Court of Appeals for the District of Columbia for 13 years.
She was known as an advocate for women's rights and gender equality, and won multiple arguments before the Supreme Court in the years before becoming an Associate Justice.
Colorado Governor Jared Polis issued a statement Friday evening, noting that Justice Ginsburg was "a fearless advocate for women and families and someone who never stopped working toward greater equality for all in the eyes of the law."
He went on to say, "she spent an incredible career giving a voice to the voiceless and standing up for what is right. Her words and her legacy will live on in all those she has inspired."
She was diagnosed with colon cancer in 1999 and underwent successful treatment while not missing time on the bench. Ten years later, she was treated for pancreatic cancer and, in 2018, after being hospitalized for a fall in which she fractured ribs, cancerous nodules were discovered in her lungs.
Justice Ginsburg received treatment for a tumor on her pancreas in 2019, and was reportedly cancer-free by January 2020, but underwent new treatments in May.
In late July, the Supreme Court announced that Justice Ginsburg "underwent a minimally invasive non-surgical procedure ... to revise a bile duct stent" that had been inserted in 2019.
Joan Ruth Bader was born March 15, 1933, in Brooklyn, New York, to Celia and Nathan Bader. She attended Cornell University where she graduated with a Bachelor of Arts degree in government. During that time, she met Martin Ginsburg, whom she would marry in 1954.
In 1956, she enrolled at Harvard Law School before moving to Columbia Law School, where she earned her law degree in 1959.
She co-founded the Women's Rights Law Reporter, which was the first journal to focus solely on women's rights. She also taught at Rutgers Law School and Columbia and was among a handful of female law professors in the United States when she began teaching.
Funeral arrangements have not been announced.