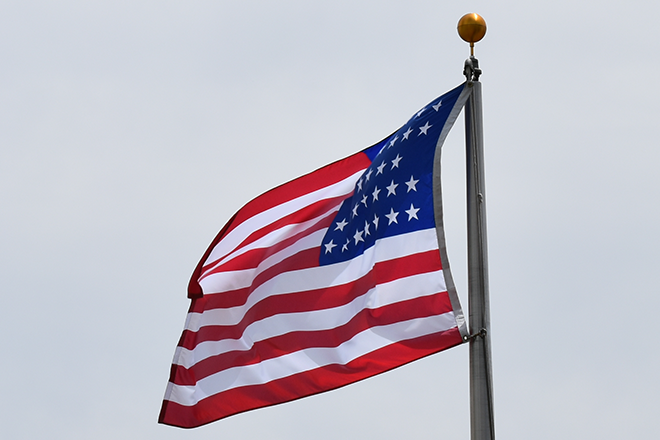 Published
Sunday, November 11, 2018
Every year, we set aside Veteran's Day for America's heroes. But is this one day enough?
One day per year doesn't amount to weeks spent in foxholes in the French countryside. One day per year doesn't suffice for months of day and night patrols through Fallujah. One day per year doesn't replace the years of sorrow felt over fellow soldiers fallen in Vietnamese jungles.
We owe a debt to these men and women whose military service has ensured our way of life and our freedom. We owe a debt to them that we can never repay in full.
But I think if you asked most of our veterans, they wouldn't expect to be repaid for their sacrifice. Instead, they would ask us to live lives that honor those sacrifices, that honor the values for which they fought.
How can we do this?
We can start with service. Where are we serving beyond ourselves?
From public service to community service projects to watching out for neighbors, we all have daily options to give of our time, our capabilities, and our resources to those around us.
Stan Cass, who passed away this past April, was an incredible model of service for me. After the Vietnam War, he returned to our state and for years ran Northern Colorado Honor Flight, helping 2,500 veterans travel to Washington, D.C. to visit the war memorials and find some closure to their war-time experiences.
We can also honor our veterans by living lives of courage. They courageously stood up for freedom, and so must we.
We must stand for freedom to worship, freedom of the press, freedom of speech, and so many others.
And we must speak truth, even when there are costs.
I had the honor of awarding Doug Hendrickson a bronze star for his heroism in Vietnam. He bravely alerted a machine gun team of an impending artillery blast, ensuring they had time to find safety and survive the blast.
Despite the complication of Vietnam, Hendrickson knew then and now what lay at the heart of his battle. "We knew we were fighting for the freedom of the South Vietnamese people,' he said after accepting his bronze star.
After service and courage, we land on humility. Whenever I speak about humility, I'm reminded of Colonel Van Chandler, a 19-year-old pilot in 1945 who shot down five enemy aircraft from the air and four more from the ground in World War II. His wife didn't know about or find his 16 medals until she went through his belongings when he passed away several years ago.
I had the honor of posthumously awarding Col. Chandler an American Fighter Aces Bronze Medal in 2015. I have a feeling if he were alive at the time, he may have considered not even attending the ceremony. For him, his sacrifice was simply his duty, just like raising a family was his duty when he came back to the United States.
A little more humility could help America these days. From government to media to entertainment to business, we want citizens and leaders who can keep their head down and do their duty, citizens who can thoughtfully listen to those around them before they speak.
I don't claim to be an expert at any of these values, but I certainly try my hardest. And when I get to meet our veterans, I'm encouraged to try even harder.
Please join with me in thanking our veterans on this important day that we've set aside for them. And then please join me in honoring them throughout the year by aspiring to lives that are worthy of the sacrifice they've made for us.