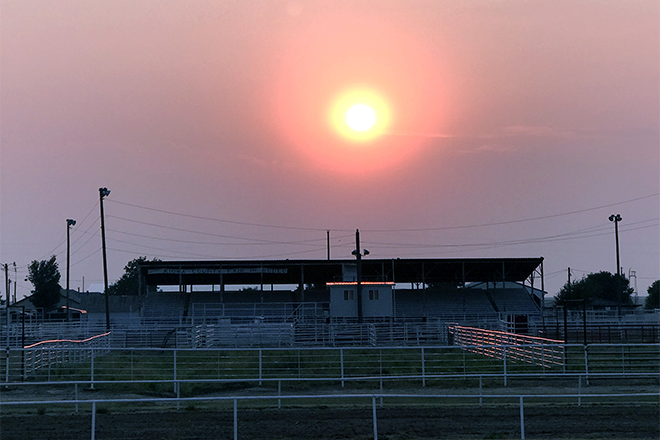 Published
Thursday, September 10, 2020
JJ'S Restaurant. Open: 8am-8pm Monday thru Saturday Open for Breakfast
Fair Hours
Thursday 8am - *9pm*
Friday 7am - *9pm*
Saturday 7am - *9pm*
We will stay open later for evening events ending at the Fair Sept. 12th! We will be serving ROCKY MOUNTAIN OYSTERS.
719-438-2002 Visit our Facebook page for specials https://www.facebook.com/jjsrestautant/
Hometown Gas & Grill. Kitchen open til 8 pm .
See Facebook for our Fair Specials!
Visit our Facebook page https://www.facebook.com/Hometown-Gas-Grill-1827749380800315/ Or phone 719-438-2206
Eads Auto Supply and Hardware LLC
Our Kiowa County Fair week hours:
Thursday: 7:30-5:30
Friday: 7:30-12
Saturday: Closed
If you have any emergencies or breakdowns 1 of us will be around give us a call. Hours: M-F: 7:30-5:30 S: 7:30-12 (719) 438-2227 www.eadsautosupply.com https://www.facebook.com/EadsAutoSupply/
Crow's Stop & Shop Here for you. Crow's Stop and Shop
Fair Store hours Fri & Sat 8:30-Noon
Hours 8:30-5:30 Mon-Sat. Please call for curb-side service if you are needing to distance from others. 719-438-5881 And as always, thank you Kiowa County for supporting us through this uncertain time. Visit our Facebook page https://www.facebook.com/Crows-Stop-Shop-240626579281809/ Phone: 719-438-5881
J & J Liquor, LLC 719-438-5754 OPEN!!!!
FAIR HOURS:
Wednesday & Thursday 10 am - 7 pm
Friday 10 am - 10 pm, with a break in the evening for Morgyn's Ranch Rodeo run.
Saturday After Parade - 10 pm, with a break in the afternoon for a special presentation honoring Mike.
I really appreciate your understanding that I am now running the store by myself and can't keep it open and live life like I did in the past. I will make my breaks as short as possible to be back to serve you. I appreciate your business and support.. Use drive up or call ahead for curbside 719-438-5754 New store hours. Monday - Thursday 10am-7pm and Friday - Saturday 10am-10pm, closed Sundays. We sell fishing licenses and worms. Hope to see you soon!!!! Stay healthy and happy, my friends!!! https://www.facebook.com/jjliqour
Sand Creek Massacre National Historic Site Open Thurs. - Mon., 9:00 - 4:00 The Sand Creek Visitor Contact Station and WNPA Park Store are open. To follow social distancing guidance, we are limiting the building occupancy to 1 visitor at a time, and time limit to 15 minutes per visitor. 719-438-5916 . https://www.nps.gov/sand/index.htm
Prairie Pines Assisted Living. Family visits must be schedule in advance. Call 719-438-2141 to schedule. Visiting hours: 9 am-11:30 am; 2:00 pm-4:30pm; 6 pm-8 pm. Please call 719-438-2141 for information and restrictions
Hawks Nest We are back to our regular hours 7am-7pm. Following COVID-19 restrictions and guidelines service is limited. More information call 719-729-3384
Plains Network Services - Following COVID-19 guidelines Monday-Friday. 8:00 am - 5:00 pm Sat 10:00 am - 3:00 pm Call 719.438.2110 or email plains.services01@gmail.com
GN Bank Following government guidelines, our lobby is open
Fair hours: regular hours on Thursday Sept. 10th. Friday Sept. 11th we will close at 11:00 a.m
Please use our drive-thru, ATM, or online banking services. 8:30am-4:30pm Mon-Fri For an appointment, call us at 719-438-5331. For more information, visit gn-bank.com
Kiowa Health Mart WE DELIVER! If you live outside town & need delivery, let us know. We will do our best to make arrangements. We appreciate your cooperation & understanding during this time & always! service@kiowahealthmart.com CALL:(719)438-5832*** ***TEXT:(719)212-9141
Cobblestone Inn & Suites - Eads We are proud to be serving our community and passerby's alike! WE ARE OPEN! All food orders are TO-GO only, menu is available to everyone! Call ahead to make a reservation today, or stop in and see us any time! Open 24 hours a day, 7 days a week! 719-438-2021 #staycobblestone #EADS #WEAREOPEN #safety1st https://www.facebook.com/EadsCobblestone/
Kiowa County Public Library KCPLD Public access hours Monday - Friday 8:00 AM - 4:30 PM COVID-19 Guidelines are still in Place-Please use west Courthouse entrance.
*Computers available by appointment only *Curbside pickup and Home delivery still offered Call us with question or for additional details 719-438-5581 Our online databases are available 24/7 through our website: www.eads.colibraries.org..Facebook: https://www.facebook.com/KiowaCountyPublicLibrary .. Phone: 719-438-5581 Email: kcpld.eads@gmail.com
USDA Service Center is closed to public access.
The Service Center will maintain regular business hours during the Kiowa County Fair and Rodeo; Monday through Friday, 8:00 a.m. to 4:30 p.m. Customers can call 719-438-5851 schedule a phone appointment or call with questions. The staff is working and will continue to provide customer service. Customers can use email, fax and phones to contact the office and/or employees. Phone: 719-438-5851 ext 2 FAX: 844-332-7501 The USDA SERVICE CENTER has a DROP BOX and a DOORBELL located by the east entrance to the Service Center
Emails: FSA
:dawna.weirich@usda.gov
charla.ferris@usda.gov
hallie.barlow@usda.gov
NRCS:
steven.schmidt3@usda.gov
scott.smith3@usda.gov
Demitasse OPEN Monday - Friday from 7:30-11am. Hand sanitizer is for your use. We appreciate your patience! https://www.facebook.com/demitassegym//
Kiowa County Hospital District Update July 31, 2020
Kiowa County Hospital District continues to monitor information and guidance related to COVID-19. We strive to implement best practices based on the latest guidelines and recommendations provided by the Colorado Department of Public Health and Environment.
Clinic and hospital patients are still subject to our screening process upon entry to the facility. The Eads Medical Clinic will be closed at 11:00am on Friday, 9/11/20 and all day Saturday 9/12/20 for the Kiowa County Fair. We want to remind you of the importance of taking care of your health and wellbeing. Our clinic and hospital are able to see you for your healthcare needs. Patients and staff are screened daily and preventative measures are in place. If you feel uncomfortable coming to the clinic, we now offer telehealth visits. If you are interested in telehealth visits, please call the clinic at 438-2251 for more information.
We will continue to work closely with our partners at the state, regional, and local level to ensure Kiowa County Hospital District is informed of the ongoing updates regarding COVID-19 in Colorado. For current information on COVID-19 and case information for the State, please visit the sites below.
Centers for Disease Control - https: https://www.cdc.gov/
Colorado State Health Department - https://www.colorado.gov/cdphe
People with general questions about COVID-19 can call CO HELP at 1-303-389-1687 or 1-877-462-2911.
We truly appreciate your support and understanding.
Individuals presenting to the clinic or hospital with symptoms consistent with COVID-19 are being triaged according to our established policies.