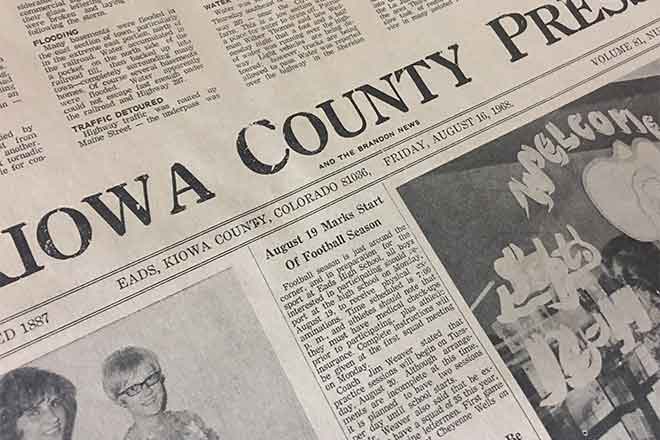 Published
Tuesday, December 25, 2018
15 Years Ago
December 26, 2003
Big Timbers Dirt Riders, Inc (BTDR) announced completion of plans to bring sanctioned motocross racing to Lamar.
Wild Horse Roundup-Curtis Schrimp: We have two cooks here and that really makes the place smell good. Four kinds of cookies, zucchini bread, peanut butter fudge and I don't know what they are stirring up now, but it smells good.
25 Years Ago
December 29, 1993
Eads School Music Department, Kindergarten through 4thgrade presented their Christmas program to a large crowd.
40 Years Ago
December 29, 1978
Bob Howerton, who has been under sheriff of Kiowa County more than three years ,has resigned effective Dececember 31,1978.
State Board of Social Service has approved new federal food stamp rules which will eliminate the purchase requirement.
50 Years Ago
December 27, 1968
It was a white Christmas in Eads and surrounding area as Old Man Winter turned on snow and cold late last week. Warner Wimp, official weather observer recorded 7 below zero.
75 Years Ago
December 24, 1943
Governor John Vivian, accompanied by Secretary of State L. Jay Bennett, spent about a half hour at the courthouse Saturday morning
100 Years Ago
December 20, 1918
The old high school building has been moved next to the track just west of the depot and remodeled to suit the needs of their business, to be known as Eads Elevator & Milling Co.
A deal was closed this week between G.G. Leppert & R.E. Jackson, whereby the latter became the owner of the former Experiment Farm adjoining Eads on the south.
Eads Cafe is now open to the public under the skillful touches of U. Monagham. The entire interior has been renovated and re-tinted, electric lights are being installed, giving finishing touches to a cheery dining room.
100 Years Ago
December 27, 1918
The Kiowa County Press has been sold by Louie Wilson to J.C. Miller. Mr. Wilson has not definitely decided what line of business he will follow.
Beginning about the 17thand continuing until Christmas, Kiowa County was in the throes of a blizzard such as has not been experienced for seven years.