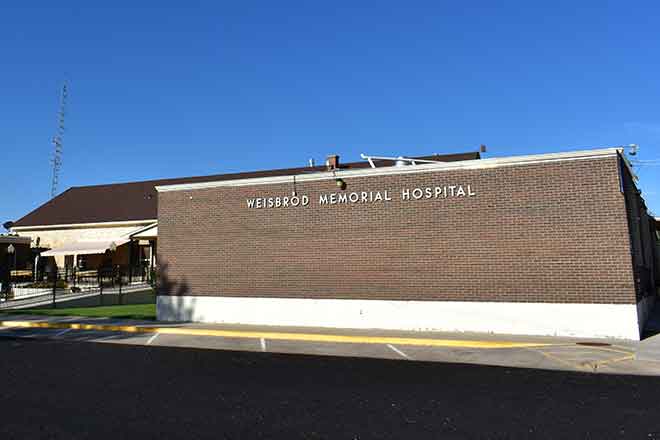 Published
Wednesday, September 16, 2020
Record of Proceeding
Board Meeting July 28, 2020
The Kiowa County Hospital District and County Board met in regular session on July 28, 2020 at
6:35 p.m. at the Cobblestone Inn Meeting Room and also via Zoom. At this time, individuals can
attend the meeting via Zoom or in person.
District Board members present were: Mary Eikner, Sylvia Shields, Cathryn Anderson and
Meghan Buck. Absent: Priscilla Waggoner (called).
County Board members present were: Ken Flory, Kevin Davis and Dale Back. Absent: Craig
Kerfoot and Whitney Barnett (called).
Others present: Shannon Dixon, Char Korrell, Ellen Lane, Dawn Back, Jessica Hyman and Beth
Spady.
CALL TO ORDER
The meeting was called to order by Sylvia Shields, Chairman of the Board at 6:35 pm.
OATH
Dale Back was sworn in by Sylvia Shields as a County Board Member.
COUNTY VOTING MEMBER SELECTION
Ken Flory, Kevin Davis and Dale Back.
APPROVAL OF MINUTES
A motion was made by Ken Flory to approve the June 23, 2020 minutes as presented. Motion
seconded by Mary Eikner. All aye.
APPROVAL OF AGENDA
A motion was made to approve the agenda with the addition of the following items under new
business: hospital liability issues, ambulance driveway, and procurement threshold. Motion made
by Mary Eikner and seconded by Meghan Buck. All aye.
PUBLIC COMMENT
No one was present for public comment.
CREDENTIALING
Dr. John Gerhold, Dr. David Constantino, and Dr. Lawrence Emmons were approved for
telemedicine privileges by Med Staff. Dr. Viral Patel, Dr. Kathryn Klima, Dr. Annie Lim, and Dr.
Christopher Pettis, Dr. Jesus Sanchez Contreras, and Dr. Veronica Sue were granted temporary
privileges. A motion was made by Mary Eikner to approve all credentialing as presented above
and seconded by Ken Flory. All aye.
POLICIES & PROCEDURES
The Board reviewed and discussed the summary of our policy and procedure revisions including
Employee Health, Dietary, and the employee health screening in the Hospital Pandemic Plan. All
policies were reviewed by the Policy Committee and approved by Med Staff. A motion was made
by Kevin Davis to approve all policies as discussed and seconded by Ken Flory. All aye.
STANDING REPORTS
CEO
KCHD is partnering with South East Health Group, Kiowa County Social Services, and Eads
School District on a project called Mind Matters. The program will focus on students.
Applications for the Hospital Transformation Program (HTP) are due on October 1, 2020. There
is a possibility that the application deadline will be delayed due to COVID-19.
KCHD is working with Eastern Plains Healthcare Consortium (EPHC) to potentially implement
staff sharing in the radiology department. Charles Johnson will be leaving the first week of
August. Ned Pjevac will be assisting us for the next two months.
CFO
The June financials were reviewed and showed a profit for the month. In June, days cash on hand
was 148 and days in AR was 92. KCHD is showing a profit for the year.
KCHD continues to monitor funding associated with COVID-19 and the requirements of each of
the various funding sources. The reimbursement request submitted to Department of Local Affairs
(DOLA) was received by KCHD.
The Board reviewed a full time equivalent report pertaining to staffing in each department.
CNO
Staff asked to replace several beds at KCHD. The advantages and disadvantages of buying new
equipment versus refurbished equipment was discussed by the Board. After discussion, it was
decided that KCHD staff would continue to research both options (new vs. refurbished) through
the end of the week. A motion was made by Mary Eikner to purchase four beds for no more than
$28,000 after researching all options. Motion seconded by Dale Back. Opposed: Ken Flory,
Meghan Buck, and Kevin Davis. Motion carries.
Brandy Turcotte, Social Services Director resigned her position with KCHD. Kendrick Grant will
be our new Social Services Director and will start with KCHD on August 12, 2020.
HOSPITAL QUALITY & SAFETY
The Quality Report Scorecard was reviewed. Various measures including infection rate,
medication errors, and falls were reviewed by the Board.
OLD BUSINESS
DEPARTMENT OF LOCAL AFFAIRS (DOLA) GRANT UPDATE
Our project manager with Iconergy is following up with the contractors who bid on the electrical
and mechanical projects to ensure all bids are submitted and consistent with the work planned.
KIOWA COUNTY ECONOMIC DEVELOPMENT FOUNDATION (KCEDF) LAND PARCEL
The deposit for the land parcel has been paid and the purchase agreement is being reviewed by
legal counsel.
COVID-19 UPDATE
KCHD staff and local partners continue to meet via zoom twice a week to receive updates and
discuss any changes to our planning process and protocols.
NEW BUSINESS
CLINIC OFFICE SPACE
KCHD is looking at options for additional building space for the clinic. Staff are researching
several options to include rent to own, lease, and purchase.
HOSPITAL LIABILITY ISSUES
The Board was assured that they would be notified if any legal action were filed against the
Hospital.
AMBULANCE DRIVEWAY
Several items placed on the north side of the Hospital are making it difficult for the ambulance to
safely pull into the driveway. These items will be moved immediately.
PROCUREMENT THRESHOLD
The equipment of concern had been included in the annual budget and was purchased under the
budgeted amount.
ADJOURNMENT
The meeting was adjourned at 7:40 pm.
Board Meeting 07.28.20
Respectfully submitted,
Kiowa County Hospital District Board
Mary Eikner, Secretary-Treasurer