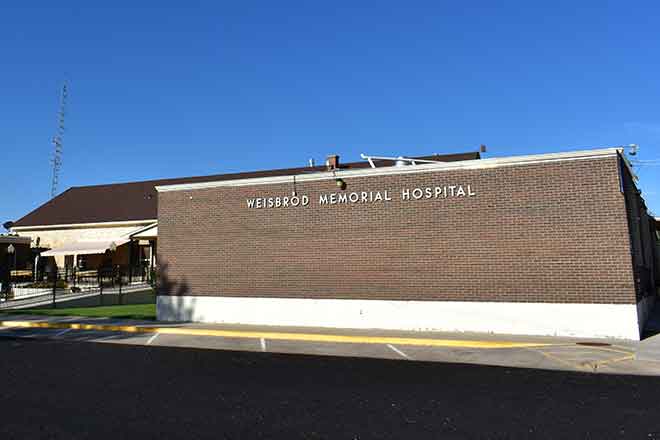 Published
Friday, October 18, 2019
The Kiowa County Hospital District and County Board met in regular session on August 27, 2019 at 6:35 p.m. at the Bransgrove Building Meeting Room.
District Board members present were: Mary Eikner, Dennis Pearson, Sylvia Shields and Priscilla Waggoner. Absent: Cathryn Anderson (called).
County Board members present were: Kevin Davis, Ken Flory, John Negley and Whitney Barnett. Absent: Craig Kerfoot (called).
Others present: John Wittler, Maura Smith, Shannon Dixon, Char Korrell, Renay Crain and Beth Spady.
CALL TO ORDER
The meeting was called to order by Priscilla Waggoner, Chairman of the Board at 6:35 pm.
COUNTY VOTING MEMBER SELECTION
Kevin Davis, Ken Flory and Whitney Barnett.
APPROVAL OF MINUTES
A motion was made by Sylvia Shields to approve the July 23, 2019 minutes as presented. Motion seconded by Mary Eikner. All aye.
APPROVAL OF AGENDA
A motion was made by Mary Eikner to approve the agenda with the following changes: postponing the executive session until next month's meeting and moving Maura Smith's presentation to the end of the meeting. Motion seconded by Dennis Pearson. All aye.
PUBLIC COMMENT
No one was present for public comment.
CREDENTIALING
Dr. Thorndike was reapproved for active privileges by Med Staff. Dr. Neitzel was approved for active privileges by Med Staff. A motion was made by Sylvia Shields to approve all credentialing as presented above and seconded by Mary Eikner. All aye.
POLICIES & PROCEDURES
The Policy Committee is in the process of reviewing several policies. No policies to present to the Board this month.
STANDING REPORTS
CEO
The first Hospital Transformation Project meeting was held on August 22 with approximately thirty people in attendance. The group discussed the survey findings and will meet again on September 5that 6:00 pm at the Cobblestone Inn. Information from the surveys and group meetings will help determine which Colorado Health Care Policy & Finance (CHCPF) initiative KCHD will focus on over the next several years.
Dawn Back, PA will be serving in an administrative capacity as our Medical Operations Officer. Dawn Back will continue to see patients regularly but will provide clinical guidance as needed. Dr. Lenderts remains our Chief of Staff.
KCHD staff participated in an emergency preparedness tabletop exercise with several county partners on August 21. We will have a full-scale exercise on Saturday, September 28 to identify our response strengths and areas of improvement.
CFO
The July financials were reviewed and showed a loss for the month. In July, days cash on hand was 164 and days in AR was 72. There were several repair expenses this month.
The Board discussed various components of KCHD operations, the close interdependency of departments and the impact on our financial position.
OGALLALA COMMONS HARVESTING CEREMONY
John Wittler, Regional Coordinator of Ogallala Commons and Maura Smith arrived to visit with the Board about Maura's experience at Kiowa County Hospital District. Maura presented a brief slide show summarizing her time at KCHD shadowing different professional staff.
CNO
Social Services is contacting case managers at other facilities to market KCHD. As a result, KCHD has received several referrals from facilities looking to place patients in need of Medicaid Skilled Swing Bed services.
KCHD has one new nursing graduate who has agreed to work with us full time and two graduates that are working PRN. In efforts to support staff, classes are being held every other week for ten weeks and Ellen Lane, CNO is scheduling meetings on a regular basis.
KCHD initiated a meeting with several of the air ambulance providers in the area to discuss delays in response. All participating parties agreed to work together and focus on improving patient care.
HOSPITAL QUALITY & SAFETY
The Quality Report Scorecard was reviewed. There were no med errors. There were two falls with no injuries noted. We have one decubitus ulcer.
The Board reviewed the many quality improvement processes put into place over the past few years: fall prevention, Patient & Family Advisory Council (PFAC), just culture, daily huddles, staff education, infection control program, and antibiotic stewardship to name a few.
Renay Crain recently passed the Certified in Healthcare Compliance (CHC) exam and is now certified as a Healthcare Compliance Officer.
OLD BUSINESS
AVERA eCARE
KCHD will implement Avera eCare on Wednesday, August 28th Staff will participate in additional training with Avera eCare staff.
KCHD is hosting an open house to introduce Avera eCare to the community on Wednesday, August 28that 6:30 pm.
Department of Local Affairs (DOLA)
Letters that were distributed to Kiowa County landowners have generated several generous donations to be applied to the infrastructure project.
A grant proposal to El Pomar for approximately $100,000 will be submitted soon to help offset the expenses of the DOLA project. KCHD will also visit with both GN Bank and Lamar Frontier Bank about possible loan options.
CEO Evaluation
Each member of the Board was asked to compile comments to include in the CEO evaluation for Board discussion prior to the completion of the evaluation.
NEW BUSINESS
None at this time.
ADJOURNMENT
The meeting was adjourned at 8:21 pm. Motion by Ken Flory and seconded by Sylvia Shields. All aye.
Respectfully submitted,
Kiowa County Hospital District Board Sylvia Shields, Secretary-Treasurer